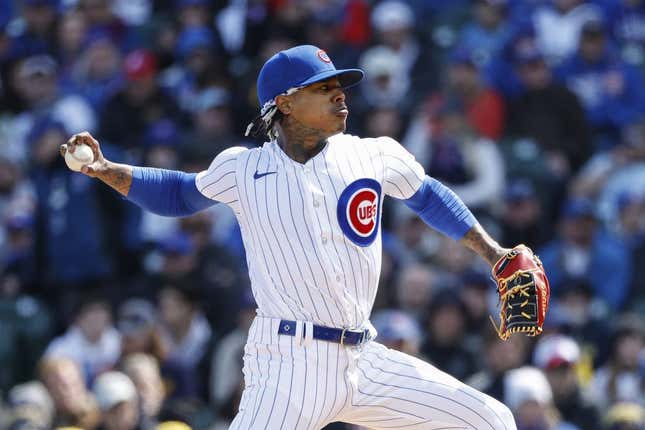 It appears Marcus Stroman is finally comfortable with his surroundings at Wrigley Field.
Aaron Rodgers should go full Joe Namath | Comedian Bert Kreischer
Meanwhile, a strong showing from the bullpen has been a big reason for the Texas Rangers' strong start to the season
Stroman looks for a fifth straight winning home decision as the Chicago Cubs open a three-game set against the Rangers on Friday
Stroman (1-0, 0.00 ERA) went 0-5 with a 7.11 ERA in his first nine starts at Wrigley during his initial season with Chicago in 2022. Since then, he's allowed just two runs, 15 hits and struck out 26 over 26 innings to win four straight starts.
The right-hander yielded three of those hits and fanned eight, with three walks, in six innings of the Cubs' 4-0 home victory over Milwaukee on Opening Day
"I love when he takes the mound," said Cubs manager David Ross, whose club is 1-3 since that victory. "Just because he's got some arrogance, swag and a good way about him.
While Stroman looks to continue his recent success at home, he also hopes to reverse his career fortunes versus Texas. Stroman is 1-3 with a 7.71 ERA against the Rangers, who have opened 4-2 and hit the road for the first time this season
Texas' starters have a 5.83 ERA thus far in 2023. However, Rangers relievers have allowed five hits through 19 1/3 scoreless innings in five games after yielding two runs over 5 1/3 innings on Opening Day
Former starter Dane Dunning has thrown seven scoreless innings in two relief appearances. Left-hander Taylor Hearn has not allowed a run over 3 1/3 relief innings in his two 2023 outings for Texas.
"They've done a terrific job, haven't they?" Rangers manager Bruce Bochy said of his bullpen. "I mean, all of them are stepping up and doing a really nice job
"It's very encouraging, in the early going here with what's going on with the bullpen."
Meanwhile, scheduled Texas starter Nathan Eovaldi (1-0, 5.40 ERA) looks for a more efficient outing after he gave up three runs and six hits, while walking two and striking out six in five innings of a 16-3 win over Philadelphia on Saturday. Eovaldi is 0-1 with a 3.95 ERA in two starts versus Chicago, but both came in 2014 as a member of the Miami Marlins.
Chicago's Yan Gomes and Eric Hosmer are a combined 10-for-18 versus Eovaldi. Dansby Swanson is 0-for-3 against the right-hander, but 10-for-20 to begin his tenure with the Cubs, who look to build on Tuesday's 12-5 rout of Cincinnati after Wednesday's rubber game in the series was rained out
Texas has scored 36 runs through its first six games, with Adolis Garcia batting .348 with a homer and five RBIs. Garcia has never faced Stroman, but teammate Marcus Semien is 7-for-13 against him.
Semien, though, went 1-for-11 while the Rangers dropped two of three to Baltimore this week after going 5-for-14 during their three-game sweep of the Phillies
Texas went 4-14 on the road in September and October last season, and lost its final five away from home. The Rangers are 4-5 all-time at Wrigley Field
--Field Level Media