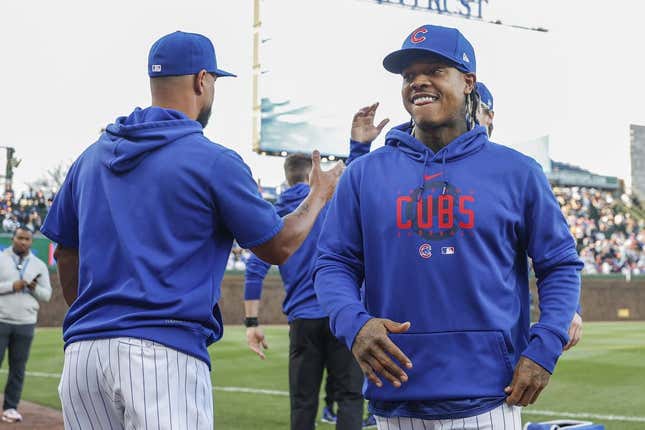 Marcus Stroman is dominating like the pitcher the Chicago Cubs expected when they brought him aboard prior to last season
That might not bode well for a Seattle Mariners club struggling with frustration at the moment
Yet to give up a run in 2023, Stroman looks to open with a third straight victory Wednesday and deliver the Cubs a three-game series sweep of the visiting Mariners
Dating to last season, Stroman (2-0, 0.00 ERA) is 5-0 with a 1.18 ERA in his past six starts. In his five home starts in that span, Stroman has yielded just two runs, with 17 hits and 11 walks, while striking out 32 in 32 innings to earn five consecutive victories.
His two most recent outing at Wrigley Field came to open his 2023 season. Stroman allowed five hits and six walks and fanned 14 through 12 scoreless innings against the Milwaukee Brewers and the Texas Rangers.
"He's been great for us," Cubs manager David Ross said of Stroman, who signed a three-year, $71 million deal with the team in December 2021. "Every time he steps on, you feel like you got a chance to win
"That's why you get those types of guys, give them the Opening Day start and get them back around as much as possible."
Stroman is 1-1 with a 4.00 ERA in three career starts against the Mariners, but last faced them in 2018 while with Toronto. Seattle's Eugenio Suarez is 3-for-13 (.231) vs. Stroman
Suarez is batting .320 this season, and had a two-run homer with three RBIs during the Mariners' 14-9 loss on Tuesday. It was another irritating evening for Seattle, which led 7-0 in the middle of the second inning but allowed the Cubs to score eight third-inning as Chicago won for the fifth time in six games
"These games happen every once in a while," Seattle manager Scott Servais said.
The Mariners have lost three in a row, including two in extra innings, and they have dropped eight of their first 12 this season. Seattle is also 2-8 all-time at Wrigley Field, where it has dropped five straight
Seattle turns to Logan Gilbert (0-1, 3.60 ERA), who broke out for 13 wins over 32 starts in 2022, his second major league season.
The right-hander faced the Cleveland Guardians in each of his two 2023 outings, and after yielding one run through six innings in a 2-0 home loss on April 1, he gave up three runs on six hits over four innings during a no-decision six days later.
It's possible Chicago's Dansby Swanson won't get the chance to face Gilbert for the first time after the shortstop exited in the sixth inning on Tuesday due to tightness in his lower left side. Swanson went 4-for-4 with two RBIs on Tuesday and is batting .400 during his young Cubs tenure
Cubs infielder Nico Hoerner is 5-for-9 in the series and is hitting .356 in 2023
Meanwhile, Seattle's Jarred Kelenic has homered in each game of this set and is 9-for-20 with four RBIs during a six-game hitting streak. It's a pleasant sight for both Kelenic and the Mariners after he batted a combined .168 in 147 games the previous two seasons
"I don't look too much into the past," Kelenic said, according to the Mariners' official website. "I'm feeling really good right now.
Teammate Ty France is batting .342 (14-for-41) during his nine-game hitting streak.
--Field Level Media