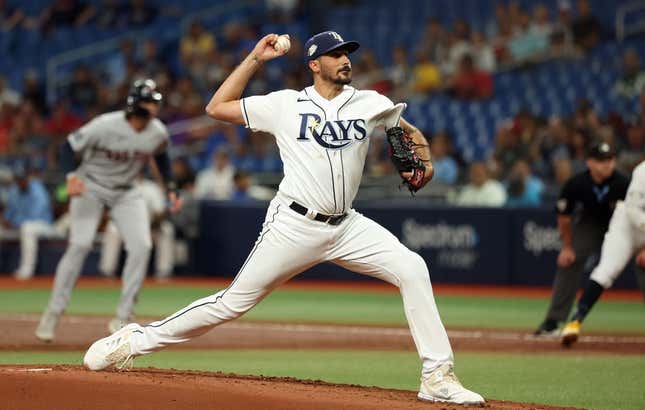 The Seattle Mariners have charged up the standings in the second half of the season, but their bullpen is starting to show signs of fatigue.
How running an NFL team is like running a restaurant | Chef Emeril Lagasse
The Mariners should have their highest-leverage relievers available when they look for a split of their four-game series against the Tampa Bay Rays on Sunday in St. Petersburg, Fla.
Andres Munoz and Matt Brash have not appeared in Seattle's last two games after each pitched in three straight contests. Both were watching from the bullpen on Saturday when the Rays won 7-5 on Yandy Diaz's walk-off, two-run homer off Tayler Saucedo in the ninth inning.
The victory moved Tampa Bay (87-56) to 7 1/2 games ahead of Seattle (79-63) and the Toronto Blue Jays (79-63) for the first American League wild-card spot.
Seattle manager Scott Servais said managing his relievers' workload and the team's playoff chase can be a delicate balancing act.
"The challenges that lie ahead, we have (20) games to go — every game is really important," Servais said. "I say that, and you don't want to put anybody in danger or anything like that. You need all these guys clicking as the season goes along."
Servais also is keeping an eye on his young starting rotation. Right-hander Bryce Miller (8-4, 3.83 ERA) will get the nod in the series finale on Sunday. Logan Gilbert will pitch Monday against the Los Angeles Angels, while Bryan Woo was pushed back three days to start on Tuesday.
"Just trying to manage the situation as best we can to keep our young guys going because they're so vital to what we do," Servais said.
Miller received a no-decision last Tuesday, when he allowed one run over five innings against the Cincinnati Reds. The rookie will face Tampa Bay for the second time this season after giving up two runs over 3 1/3 innings on June 30.
The Rays will counter with right-hander Zach Eflin (13-8, 3.47), who had mixed results against the Boston Red Sox last Tuesday. He gave up three runs over five innings while throwing 89 pitches in a no-decision.
"I felt butt naked, stranded on an island somewhere in the middle of the ocean," Eflin said. "I didn't really know what I was doing. I could not figure out my mechanics. I couldn't get ahead of guys."
Eflin has issued one walk or less in 13 consecutive starts dating to June 28.
Eugenio Suarez is hitless in nine at-bats against Eflin, who is facing Seattle for the second time in his career. He allowed three runs over six innings against the Mariners on May 10, 2017, as a member of the Philadelphia Phillies.
The Rays boast one of the majors' best hitters in the late innings in Diaz, who is batting .376 (47-for-125) in the seventh inning or later.
"I didn't know about those stats, but it's good to know it's out there," Diaz said via an interpreter after Saturday's game. "Seems like in moments of tension is when I kind of relax and focus a little more."
Tampa Bay is monitoring the status of third baseman Isaac Paredes, who was hit by a pitch on his right wrist in the fourth inning of Saturday's contest. Paredes exited the game and is listed as day-to-day with a right hand contusion after X-rays came back negative.
Paredes has been hit by a pitch 20 times this season, which ranks as the second-highest total in the majors.
—Field Level Media