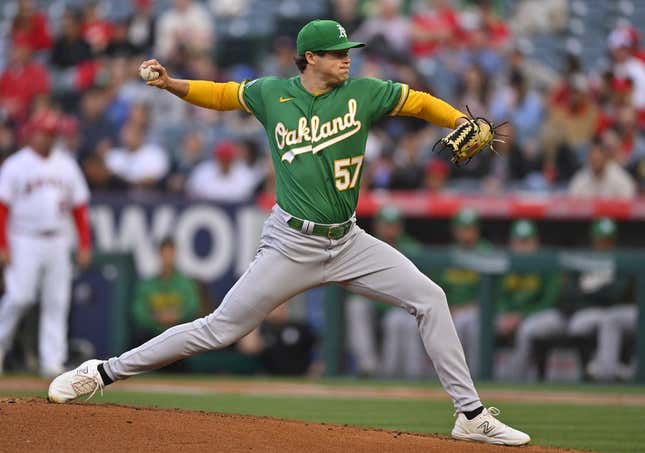 The Seattle Mariners and Oakland Athletics both hope to build upon exciting wins that prevented series sweeps when they kick off a three-game series in Northern California on Tuesday night
Are the Oakland A's a failed state? | Agree to Disagree
A pair of prospects named Miller -- the Mariners' Bryce (0-0, 0.00 ERA) and A's Mason (0-1, 6.48) -- are the scheduled starters in the first meeting of the year between the American League West rivals
Closing in on a fifth consecutive loss, the Mariners scored twice in the eighth, once in the ninth and two more times in the 10th to catch and overtake the host Toronto Blue Jays in a 10-8 win Sunday
Cal Raleigh powered the Seattle comeback, drilling a two-run homer in the eighth, then another in the 10th for the third multi-homer game of his career.
In between, J.P. Crawford's two-out, two-strike single in the ninth had tied the score after the visitors had allowed eight consecutive runs to fall behind 8-4.
"The way this road trip has played out here the last four or five days, being down in the game like that, kudos to our guys," said Seattle manager Scott Servais, who had watched his team lose four straight after a trip-opening win in Philadelphia.
"We kept fighting and kept scratching and clawing. It was really a team effort in a game we needed to win. When you're down like we were, it's easy to pack it in and say, 'Hey, it's not our time up here in Toronto.' But our guys didn't do that. Credit to them."
Bryce Miller is slated to make his major league debut in Oakland. The 24-year-old, the organization's top pitching prospect, was promoted straight from Double-A Arkansas, where he's been 0-2 with a 6.41 ERA in four starts this season.
The Mariners are attempting to fill spots in their rotation created when Robbie Ray was lost for the season following flexor tendon surgery and Chris Flexen was pulled from the fivesome due to ineffectiveness. Easton McGee filled in Saturday in Toronto
Needless to say, the A's have never seen Bryce Miller, and the same is true of the Mariners in their first meeting with Oakland's Mason Miller
Also a 24-year-old, Mason Miller has two big-league starts under his belt but remains in search of his first win. He has allowed six runs in 8 1/3 innings, with Oakland losing both games.
The A's win Sunday also was of the last-inning variety, a walk-off courtesy of a single by Esteury Ruiz in the bottom of the ninth.
Like the Mariners, Oakland forged its comeback in the last three innings, drawing even at 4-4 in the seventh before ending a five-game losing streak on Ruiz's hit in the ninth
The on-field celebration was in stark contrast to Ruiz getting booed one day earlier for failing to bunt with two strikes, resulting in a strikeout.
"I think everyone's kind of ready for (April) to be over," A's utility player Tony Kemp told reporters, "and good thing we just put an exclamation point on it right there."
--Field Level Media