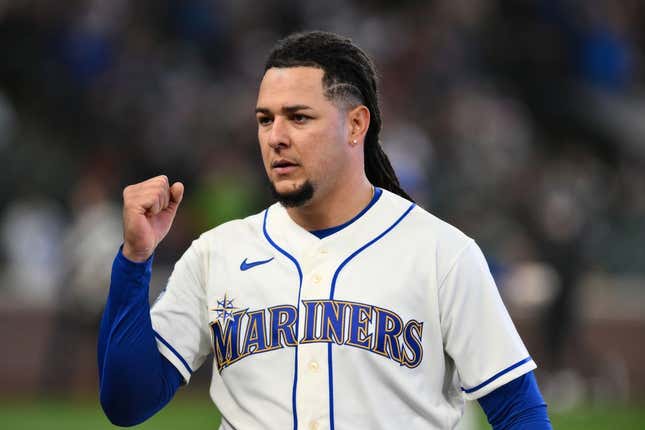 Seattle ace Luis Castillo looks to bounce back from a rare tough outing when the Mariners host the Texas Rangers on Wednesday afternoon in the finale of a three-game series
Are the Oakland A's a failed state? | Agree to Disagree
The Mariners will try to move over .500 for the first time since starting the season with a victory. Seattle has won seven of its past nine games, including a 5-0 triumph over the Rangers on Tuesday. Texas won the opener of the three-game set 2-1 on Monday
Castillo will be try to follow up three straight dominating starts by teammates Bryce Miller, Logan Gilbert and George Kirby.
Miller allowed two hits in six shutout innings during a 3-1 win over the Houston Astros on Sunday. Gilbert gave up two runs and struck out 10 in 6 2/3 innings during the Monday loss to Texas, and Kirby pitched seven innings of six-hit, shutout ball in the Tuesday win. The trio combined for 24 strikeouts against two walks in 19 2/3 innings.
"Our pitching is unbelievable," Mariners manager Scott Servais said after the latest victory. "We are rolling right now. Night after night, I sit up here and just rave about what I'm watching. I hope everybody realizes how talented these guys really are.
The Rangers, who are 7-3 over their past 10 games, have certainly noticed
Texas tallied just two runs in the first two contests after scoring 58 runs over the previous six games.
"It's a good staff over there," Rangers manager Bruce Bochy said after the Tuesday loss, "but you still have to get a big hit, and we just couldn't quite do it.
It doesn't get any easier for Texas with Castillo on the mound.
"We're facing another really good pitcher," Bochy said of Castillo. "We've been scoring runs. That's what works best for us. This is a group that bounced back well."
Castillo, a two-time All-Star, allowed a season-worst four runs in seven innings against the Astros last Friday. The right-hander received a no-decision after allowing five hits and one walk and striking out five.
Castillo (2-0, 2.38 ERA) pitched scoreless ball in three of his seven starts. He has struck out 43 in 41 2/3 innings and has a tidy 0.91 WHIP.
Castillo, who was acquired from the Cincinnati Reds at the 2022 trade deadline, is making his first career start against the Rangers. He does have experience facing Brad Miller (0-for-5) and Robbie Grossman (1-for-4)
Tom Murphy smacked a two-run homer and Ty France hit a two-run single to highlight Seattle's offense on Tuesday.
Right-hander Dane Dunning (2-0, 1.42 ERA) will be on the mound for Texas in the finale. He will make his second straight start after beginning the season in the bullpen.
Dunning figures to be in the rotation for a while after Bochy said Tuesday that ace right-hander Jacob deGrom (elbow inflammation) won't ramp up toward a return for another two or three weeks. He is eligible to be activated from the injured list on Sunday.
Dunning tossed five shutout innings against the Los Angeles Angels on Friday. He gave up two hits and one walk and struck out three.
Dunning, 28, is 1-1 with a 4.26 ERA in five career starts against Seattle. Cal Raleigh is 3-for-8 with a homer and two doubles vs. Dunning, and Julio Rodriguez (2-for-11) also has homered against him.
--Field Level Media