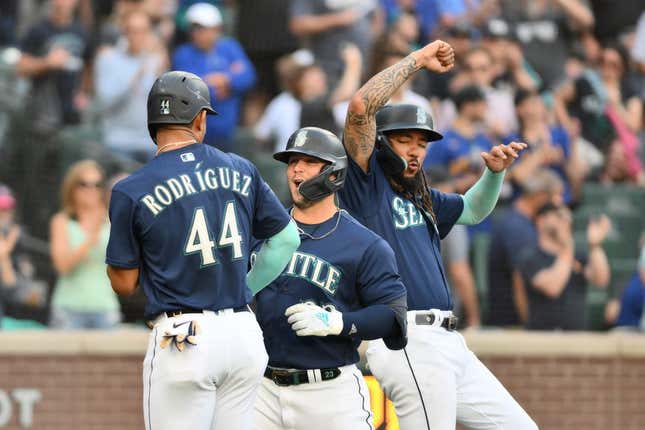 It's not quite summer in Seattle, but it felt like it on Monday.
The temperature was 76 degrees when the Mariners and the visiting Miami Marlins opened their three-game interleague series. And as is their custom, the Mariners' bats started to heat up with the weather
How running an NFL team is like running a restaurant | Chef Emeril Lagasse
Ty France, Eugenio Suarez and Tom Murphy hit home runs as the Mariners defeated Miami 8-1. The teams are scheduled to continue their series on Tuesday
"You can't beat a Seattle summer," said France, the Mariners first baseman. "It's incredible here, and the balls do travel a little bit better.
Count France among those who consider the marine layer that envelops Seattle in April and May to be a hindrance to hitters.
"You get a cold, wet night and the ball just doesn't travel as well," he said. "So, yeah, I think it's a real thing."
The Mariners could use all the help they can get after going 2-6 on their just-completed trip to drop 10 games back in the American League West. Their win on Monday cut the deficit to nine games
France's three-run blast off Jesus Luzardo in the second inning gave the Mariners a 6-0 lead
"The road trip was tough, but what can you do about it now?" France said. "Just got to keep moving forward and got just under 100 games left, so gotta make the most of them."
Mariners manager Scott Servais was appreciative of the early offensive output after his team often fell behind on the road
"Getting the runs early certainly helps. I'd love to see it here on a consistent basis," Servais said. "We're capable of doing it. We've seen us do it before, but it takes a really disciplined approach every night."
Mariners rookie Bryce Miller and two relievers combined on a one-hitter -- Nick Fortes' solo homer to left field with two outs in the fifth inning
Miami's Luis Arraez went 0-for-4, snapping his eight-game hitting streak. Arraez's major-league-leading batting average dropped from .397 to .391 as he went hitless for just the second time in the past 17 games and the 11th time in 62 games this season.
It was only the Marlins' fourth loss in their past 16 games
On Tuesday, Miami's Edward Cabrera (5-4, 4.29 ERA) is scheduled to match up against fellow right-hander George Kirby (5-5, 3.50). Both pitchers will be facing the opponent for the first time.
Cabrera has won his past two starts, allowing one run on six hits over 11 innings, with three walks and 14 strikeouts.
"With a young staff, I think that some people made adjustments on us," Marlins catcher Jacob Stallings said, "and I think our guys have done a really good job of adjusting to those adjustments and are throwing the ball really well. ..
"Guys are bouncing back. We always thought this was going to be the strength of our team, and it's nice to see those guys (produce). They work really hard, so it's nice to see those guys getting the results."
After pitching eight scoreless innings against the New York Yankees on May 31, Kirby gave up five runs on 11 hits in 3 2/3 innings on Wednesday vs. the San Diego Padres in his shortest start of the season.
--Field Level Media