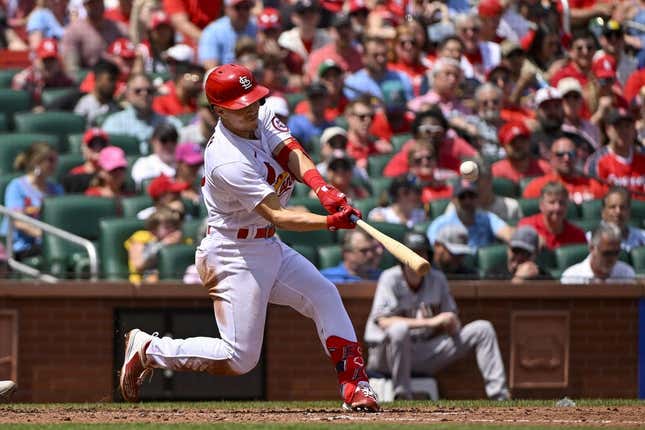 Three weeks into the season, the St. Louis Cardinals and Seattle Mariners find themselves in similar circumstances entering Friday's opener of a three-game interleague series in Seattle
Chris Paul should ride the bench next season | Keep it a Buck(et)
Both clubs, thought to be playoff contenders, are in fourth place in their respective divisions.
The Cardinals went 3-4 against Pittsburgh and Arizona on their just-completed homestand, though they defeated the Diamondbacks 14-5 in the finale Wednesday afternoon. Tommy Edman had a three-run homer with a career-best five RBIs, and Nolan Gorman hit his first major league grand slam
"So nice to end the homestand on that note, and hopefully we can keep that momentum going," said Edman, whose team will remain on the road for the rest of the month with series in Seattle, San Francisco and Los Angeles.
St. Louis set a season high for runs Wednesday, scoring three or more times in four innings.
"We haven't been able to cash in the amount of runs that we would like, but (Wednesday) that was not the case," Cardinals manager Oliver Marmol said. "That is what our offense is capable of doing on any given day.
Edman entered the game with a .241 batting average and two RBIs. He finished a single short of the cycle.
"Felt like I was able to kind of slow everything down," Edman said. "My at-bats felt like I was seeing the ball well throughout."
Rookie Jordan Walker broke out of a 1-for-17 slump with a pair of hits and Gorman hit his fifth homer of the season.
"You're just seeing a lot of really good hitters do really good at the plate," Gorman said. "We've got a really good lineup. So our bats are going to come around, you know, whenever they do, like they have been, we score a lot of runs."
The Mariners opened their six-game homestand by sweeping three games from Colorado, only to lose the past three to Milwaukee. They lost 5-3 on Wednesday afternoon as the Brewers scored all their runs in the seventh inning
"We're very capable of beating these teams," Mariners manager Scott Servais said. "I think coming into the series, the way we were playing, we felt really good about our chances of winning the series. They executed better than we did, they walk out of here with three wins
"We have to wash it away. We have a lot of baseball to play. And we're not even close to playing how we can play when we're at our best, so we've got that to look forward to."
The Cardinals are scheduled to send left-hander Steven Matz (0-2, 6.48 ERA) to the mound Friday to face Mariners right-hander George Kirby (1-1, 3.78). Matz is 1-0 with a 4.70 ERA in two career starts against Seattle; Kirby will be facing St. Louis for the first time
"It's just a little bit of inconsistency," Mariners pitcher Marco Gonzales said of the team's slow start. "It's not too surprising to begin the season. We're finding our footing, finding our identity, but we have a dangerous lineup, guys who can really chuck the rock, so I'm not really worried in any sense. We just need to put it together and click the right way. Hopefully, the off day is a chance to reset and come in for a big weekend series on Friday.
--Field Level Media