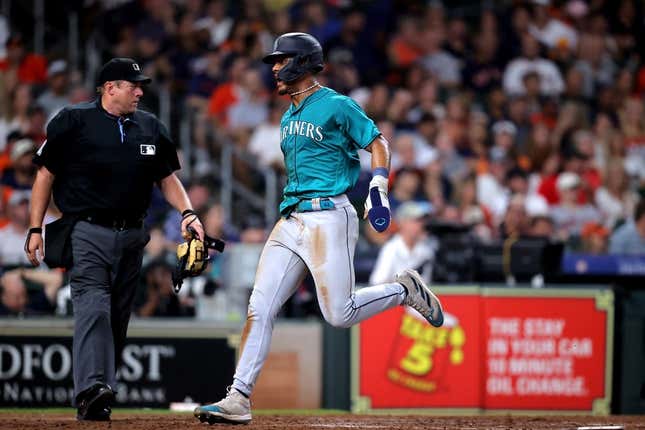 A week and a half ago, when the Seattle Mariners arrived in Kansas City to open a 10-game trip, Julio Rodriguez was batting .255, the club was 1 1/2 games behind Toronto in the American League's wild-card race and it trailed Texas by 6 1/2 in the AL West.
Is Texas or Florida State a bigger national title contender? | Agree to Disagree
Since, Rodriguez has raised his average to .277, the Mariners are in a virtual tie with the Houston Astros for a wild-card spot and they have pulled within 1 1/2 games of the Rangers in the division.
The Mariners return home Friday night to face Kansas City again.
Seattle went 8-2 on its trip, losing the opener to the Royals on Dairon Blanco's bunt single in the bottom of the ninth of a 7-6 loss and the finale Wednesday to the Chicago White Sox, 5-4 in 10 innings.
In between, the Mariners won eight consecutive games, matching their season high set earlier this month.
Rodriguez was the catalyst, earning AL Player of the Week honors while going 21-for-37 (.568) with four doubles, two homers, 12 RBIs, seven runs and six stolen bases. He set an MLB record with 17 hits in a four-game span that started in Kansas City and ended in Houston, where the Mariners swept a three-game series.
"It's as good as I've seen a player," Mariners manager Scott Servais said. "The power, the speed, driving the ball — it doesn't matter where the pitch is. ... When he gets on fire, he can carry us."
The same can be said for Kansas City's Bobby Witt Jr. In the four-game series against the Mariners, Witt went 7-for-18 with two doubles and two home runs — the first an inside-the-park homer and the second a grand slam — with five RBIs and six runs.
Earlier this week, Witt became the fifth shortstop in MLB history to hit 25 or more homers and have 35 or more steals in a season. He joined Barry Larkin (1996), Alex Rodriguez (1998), Jimmy Rollins (2006-07) and Hanley Ramirez (2007-08).
"It's more motivation, to try to keep those things going," Witt said. "You can be on the list, but you've just got to keep doing it, staying consistent with it. So that's what I'm trying to keep doing, being prepared each and every day, not worry about what happened today, learn from what happened today and then wake up tomorrow on a new day and get after it."
Witt homered Wednesday in a 4-0 victory at Oakland that snapped the Royals' four-game losing streak.
"Any time you win a game, you feel good for the guys," Royals manager Matt Quatraro said. "We were in all three of these games (at Oakland) and we were able to come out with this one. It's better to go into an off-day feeling that way than getting swept, for sure."
Friday's series opener is scheduled to feature two right-handers in Kansas City's Brady Singer (8-9, 5.04 ERA) and Seattle's Bryce Miller (8-4, 3.78).
Singer is coming off a 6-4 loss to the host Chicago Cubs on Saturday, in which he allowed six runs — four earned — on nine hits in 3 2/3 innings. In his previous start, Aug. 14 against Seattle, he allowed just two runs on two hits in 7 1/3 innings, with one walk and eight strikeouts, but the bullpen couldn't hold the lead.
He's 1-0 with a 1.71 ERA in four career appearances against the Mariners, with three starts.
Miller, a rookie who will be facing the Royals for the first time, pitched 6 1/3 innings of scoreless, two-hit ball last Friday in a 2-0 victory at Houston.
—Field Level Media