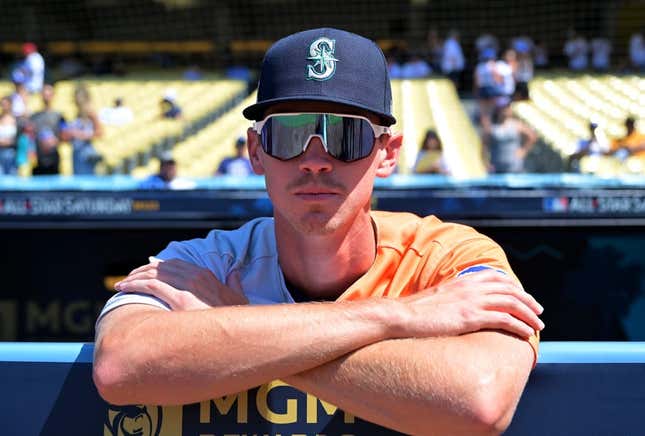 Emerson Hancock was spotted in the outfield Tuesday afternoon at T-Mobile Park, warming up by throwing a football
How running an NFL team is like running a restaurant | Chef Emeril Lagasse
The right-hander, Seattle's top pitching prospect, is expected to make his major league debut Wednesday night when the streaking Mariners wrap up a two-game interleague series with the visiting San Diego Padres
Hancock, the sixth overall pick in the 2020 MLB draft, will be the fourth starting pitcher to debut for the Mariners this season
"We will not be the first team in history to have too much starting pitching depth, as this year is proving out," Mariners general manager Justin Hollander said. "It's been a challenge on everybody. But again, our guys have really adopted a next-man-up attitude. And whether we're talking about Easton McGee or Bryce Miller or Bryan Woo, I have every expectation that Emerson will do the same thing. We will have a next man up and that next guy up will probably do very well.
Woo was scheduled to pitch against the Padres before being placed on the injured list Tuesday with right forearm inflammation. He made a quality start last Thursday against the host Los Angeles Angels but "didn't feel 100 percent" after a side session between starts, Mariners manager Scott Servais said
In 20 starts for Double-A Arkansas, Hancock was 11-5 with a 4.32 ERA. In 98 innings, he struck out 107 batters with 38 walks
"He's definitely ready for this," Hollander said. "This was coming eventually, whether it was this week or next week or the week after. We always had a plan to give Emerson some time in the big leagues this year in our rotation and give everybody else a little extra rest. Obviously, you know Bryan feeling a little more sore than normal expedited that.
With Tuesday's 2-0 victory against the Padres, Seattle has won six in a row and 11 of its past 13 to pull within two games of Toronto for the American League's third and final wild-card playoff berth
"We're rolling," Servais said. "The team is feeling it. The vibe is there ... you gotta go out and focus on continuing to win series.
Seattle's Logan Gilbert allowed one hit in seven shutout innings Tuesday and struck out a career-high 12
"(He did) everything," Padres manager Bob Melvin said of Gilbert. "Elevated breaking balls, splits late, off-count sliders. It's probably the best game he's pitched all year is my guess.
The Padres, who have dropped three straight and are four games back in the National League's wild-card chase, are scheduled to start right-hander Yu Darvish (8-7, 4.41) in the series finale
After going 3-1 in July, Darvish didn't get a decision in his last outing as the visiting Los Angeles Dodgers rallied late for a 10-5 victory. Darvish allowed two runs on five hits over seven innings, with no walks and four strikeouts
Darvish is 7-4 with a 3.81 ERA in 14 career starts against Seattle. He threw eight scoreless innings of two-hit ball the last time he faced Seattle, on Sept. 13, 2022
--Field Level Medi