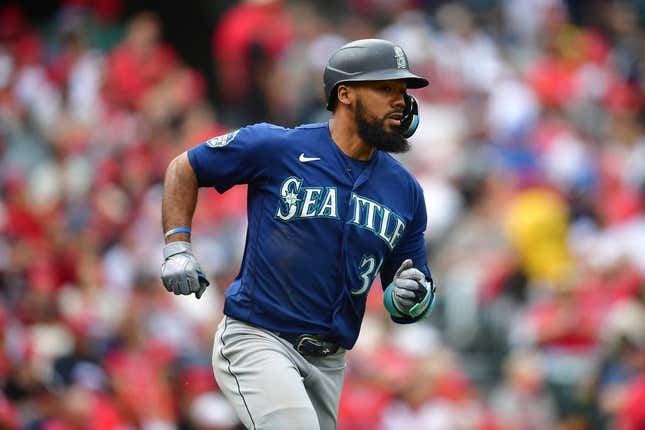 The Seattle Mariners finally are seeing the Teoscar Hernandez they expected when they acquired him in an offseason trade with Toronto
How running an NFL team is like running a restaurant | Chef Emeril Lagasse
After a slow start, Hernandez has heated up.
He's batting .350 with two home runs, eight RBIs and an on-base-plus-slugging percentage of 1.022 in 11 June games entering Friday's opener of a three-game series with the Chicago White Sox in Seattle
"Obviously, I had success in Toronto, and I wanted to bring that here," said Hernandez, who is batting .249 with 11 homers and 36 RBIs for the season. "It was a little hard. I was trying to impress everybody and tried to do more than I can do. It took a little time, and I understand that. I just had to keep working."
Hernandez built a solid resume in Toronto, being named to the All-Star team and winning a Silver Slugger award in 2021, when he batted .296 with 32 homers and 116 RBIs.
Now he's looking like the slugger he was with the Blue Jays.
"When you have your comfort back, it's everything," Hernandez said.
Hernandez has a track record of heating up with the weather. In his five previous full seasons in the majors, he had a .761 OPS before the All-Star break and .848 after.
"I don't think we give Teo enough credit," Mariners manager Scott Servais said. "Everybody says, 'Oh, he's been terrible,' and this and that. Go see what he's done from May 1. It's pretty good. And this is a guy who has a track record of being a slow starter. ... He's a veteran player. He doesn't panic. He knows he has to keep grinding and make some adjustments, and that's what we've seen.
The Mariners, who are 2-1 on their current six-game homestand, hope that continues against White Sox right-hander Michael Kopech on Friday
Kopech (3-5, 4.03 ERA) is scheduled to take the mound against Mariners rookie right-hander Bryan Woo (0-1, 10.80)
Kopech doesn't have a decision in two June starts despite allowing just two runs over 12 innings. On Saturday against Miami, he allowed five hits in five scoreless innings with one walk and six strikeouts. He was in line for a victory until the Marlins scored five runs in the top of the ninth to win 5-1. Kopech is 0-0 with a 1.59 ERA in two career appearances against the M's, including one start.
After giving up six runs in two innings against Texas in his major-league debut on June 3, Woo pitched better last Saturday against the Los Angeles Angels, allowing two runs on four hits in 4 2/3 innings, with one walk and seven strikeouts. The Mariners won that game 6-2
While the Mariners were off Thursday, the White Sox went 11 innings in Los Angeles, losing to the Dodgers 5-4. All of Chicago's runs came via solo homers, by Luis Robert Jr., Eloy Jimenez, Jake Burger and Andrew Vaughn. However, Burger struck out four times and Robert and Jimenez three apiece as Chicago blew a 4-0 lead
Los Angeles pitchers struck out 16 on the night. It was the fourth loss in the past five games for the White Sox after they had won six of their first seven in June
The White Sox will be without third baseman Yoan Moncada, who was placed on the 10-day injured list Thursday with lower back inflammation. It is Moncada's second stint on the IL this season
"I want to see him play without any pain, and this might help him," White Sox manager Pedro Grifol said
--Field Level Media