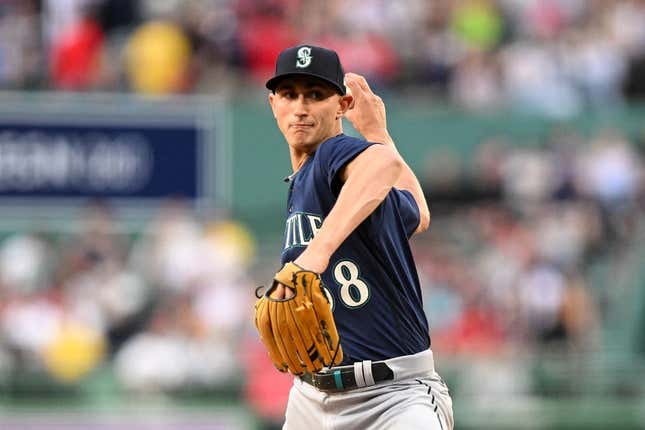 The Seattle Mariners will conclude their nine-game road trip on Sunday when they send ace George Kirby to the mound in the rubber match of their three-game series against the Atlanta Braves
How running an NFL team is like running a restaurant | Chef Emeril Lagasse
The Braves posted a 6-2 victory in the series opener on Friday before the Mariners evened the set with a 7-3 win on Saturday. Seattle is 4-4 on its trip
Kirby (5-2, 2.45 ERA) will face Atlanta left-hander Jared Shuster (0-2, 7.24) in the finale.
Kirby will make his ninth start of the season and brings a three-game winning streak into the contest. The right-hander has pitched six-plus innings in his last seven outings. His four total walks are the fewest in baseball among pitchers with at least eight starts. His 10.25 strikeout-to-walk ratio ranks third in the majors among starters.
"George is truly a special talent," Seattle catcher Tom Murphy said.
In his last start on Monday at Boston, Kirby pitched 6 2/3 innings and allowed one run on eight hits and one walk with six strikeouts in a 10-1 Seattle win.
Kirby has made one career start against the Braves. He recorded the win last season after working six innings and allowing only one unearned run on three hits with six strikeouts
Seattle manager Scott Servais said, "He's smothering them. That's the way I like to term it."
Shuster, ranked as Atlanta's No. 1 prospect, was the team's first-round draft pick in 2020 and has been ushered into the rotation with Max Fried and Kyle Wright on the injured list.
Shuster will make his fourth career start. In his last outing on Tuesday at Texas, the rookie pitched five innings and allowed three runs and three hits with two walks and three strikeouts. All three runs came in the fourth inning after he opened the game by retiring the first eight batters.
"Just came undone there in that one inning," Atlanta manager Brian Snitker said. "But overall, it was a lot better. If you would have told me we're going to get five innings out of him, I would have said that'll be great."
This will be Shuster's first appearance against Seattle.
Seattle's J.P. Crawford continues to produce at the plate. He was 2-for-4 on Saturday and extended his on-base streak to 16 games. He has 16 hits and 10 walks over 69 plate appearances during the streak, and his 27 walks is best on the team.
Neither team has crushed the ball during the series. Atlanta has two homers from Matt Olson, and Seattle has only one from Eugenio Suarez. That should not be surprising: Seattle has allowed the fewest homers in the majors (32) and Atlanta has allowed the second-fewest (38).
Atlanta continues to score in the first inning. The Braves got two runs in the opening frame on Saturday
Ronald Acuna Jr. is hitting .512 (21-for-41) with a 1.385 OPS in 45 first-inning plate appearances this year.
--Field Level Media