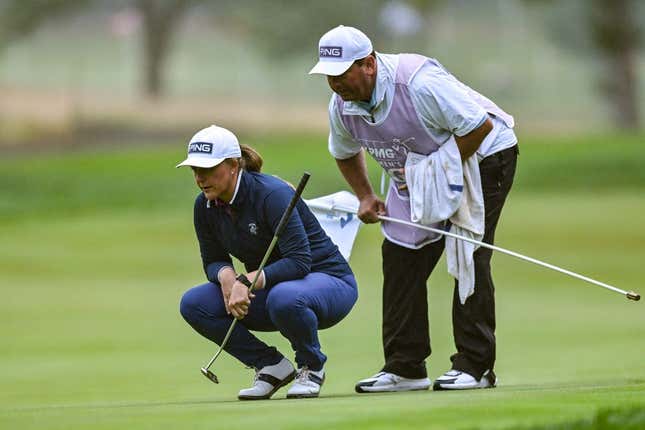 Marissa Steen carded a 1-under-par 72 on Friday to seize a one-stroke lead after the second round at the ISPS Handa World Invitational in Antrim, Northern Ireland.
Is Texas or Florida State a bigger national title contender? | Agree to Disagree
Playing the par-73 Castlerock Golf Club, Steen collected three birdies against two bogeys to move to 3-under for the tournament. She highlighted her round by making a 50-foot putt for birdie.
"I was just trying to get it close and have a tap-in par, so to see that go in was fun," Steen said.
"Other than that it was just steady. Didn't make a lot of birdies but hung in and never got myself into a bunch of trouble."
Steen rests one shot ahead of Germany's Esther Henseleit, who shot a 71 at Castlerock on Friday after recording five birdies against three bogeys.
"I'm really confident at the moment on the golf course. I'm rolling some putts in, so that's nice to see," Henseleit said.
"And, yeah, I feel good. Yesterday was good as well. Just one little bad shot that cost me coming in. Yeah, really solid both days."
First-round co-leaders Gabriella Cowley of England and Switzerland's Kim Metraux each shot a 75 on the par-72 Galgorm Castle Golf Club Friday. They are tied with Ryann O'Toole (73 on Castlerock) and Germany's Olivia Cowan (72 on Galgorm) at 1-under.
"Conditions were really tough this morning especially early on with it being cold as well as windy and to have the rain, but I knew it was going to be a battle and I just had to grind a score out," Cowley said.
"Galgorm is always tough; I played the last few years here and it's a tough layout, but you just have to commit to your shots around here. Going forward, I will be playing the same as the last few days. I just want to stick to the game plan and commit to it."
The field was split for the first two days between Castlerock Golf Club and the par-72 Galgorm Castle Golf Club.
The players swapped courses Friday, and the final two rounds will be played over the weekend at Galgorm Castle.
First-round co-leader Karis Davidson of Australia (76 on Galgorm), Thailand's Jasmine Suwannapura (73 on Castlerock), India's Diksha Dagar (74 on Castlerock), South Korean Soo Bin Joo (74 on Castlerock) and Wales' Chloe Williams (75 on Galgorm) are tied for seventh place at even par.
—Field Level Media