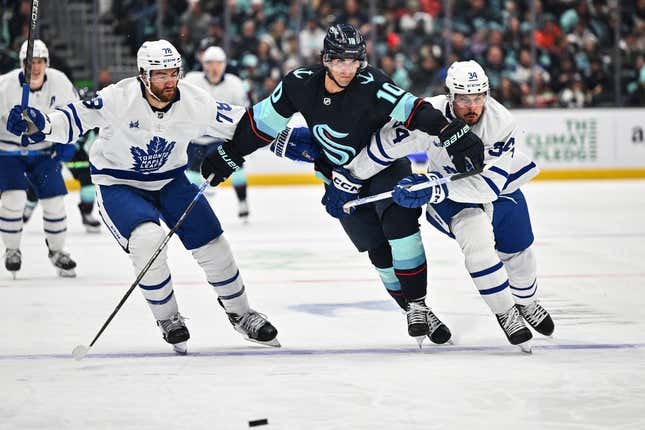 Mark Giordano scored in his return to Seattle and broke an NHL record for most career blocked shots as the Toronto Maple Leafs defeated the Kraken 5-1 Sunday in the opener of a five-game trip.
Auston Matthews scored twice, and Mitchell Marner had three assists for the Maple Leafs, who have won three in a row and five of their past six games. Timothy Liljegren and John Tavares also tallied, and goaltender Ilya Samsonov made 26 saves.
Vince Dunn scored for Seattle, which suffered its third successive defeat. Goalie Philipp Grubauer was pulled early in the second period after allowing four goals on 21 shots. Martin Jones replaced Grubauer and stopped 11 of 12 shots the rest of the way.
The Kraken took the lead at 3:47 of the first period, as Jared McCann intercepted a Toronto clearance attempt at the blue line. He fed Jordan Eberle on the right wing, who spotted a wide-open Dunn joining the rush and passed to him for a one-timer from between the faceoff circles, beating Samsonov low to the stick side.
Giordano, the first captain for the expansion Kraken last season before being sent to his hometown Maple Leafs at the trade deadline in March, tied it at 4:58 on a low shot from the left point that made it through a screen and between Grubauer's pads.
Giordano had two blocked shots to break a tie with Kris Russell for the most in the league (2,044) since the statistic was first kept in 2005.
Tavares gave Toronto the lead at 7:06 of the first. Justin Holl's shot from the right point deflected off the skate of teammate William Nylander to Tavares at the far post, and he tapped the puck into the open side of the net.
Liljegren extended Toronto's advantage to 3-1 at 12:51 of the period. Michael Bunting gained possession of the puck from two Seattle defenders in the left-wing corner and passed to Marner behind the net. He found Liljegren for a one-timer from the right faceoff dot.
Matthews ended Grubauer's night with a goal at 4:13 of second period. Marner's shot deflected off a defenseman's skate, and Matthews batted the loose puck out of midair and into the net.
Matthews capped the scoring on a three-on-two rush at 12:31 of the third, redirecting Marner's pass past a sprawling Jones.
The Leafs reversed a 5-1 loss to the Kraken on Jan. 5 in Toronto.
--Field Level Media