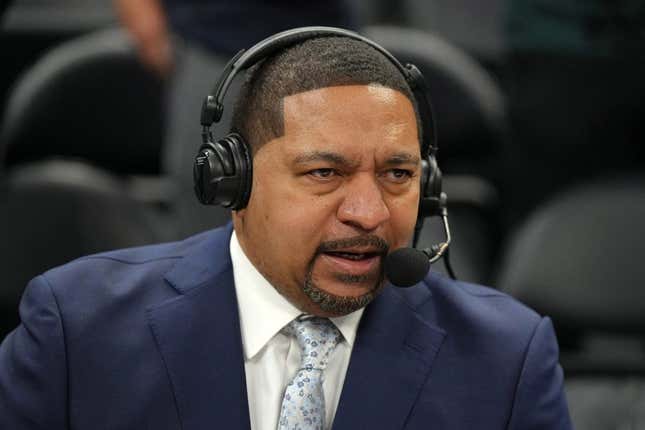 ESPN announcer Mark Jackson issued a mea culpa on Thursday after it was revealed that he was the only one of 100 voters to leave Denver Nuggets center Nikola Jokic off his MVP ballot
'Soccer fandom is full of gatekeepers' says Ted Lasso actor Brendan Hunt
Jokic wound up second in the voting this year to Philadelphia 76ers center Joel Embiid after the Nuggets big man won the honor each of the prior two years. Each ballot contained five names, Jokic was voted first, second or third on each by the other 99 broadcasters and sportswriters
Jackson said Thursday on SiriusXM radio's "NBA Today," "I am thinking, how did I make that mistake?. You can tell, I put one center, two forwards and two guards, so I wasn't even thinking.
"I apologize to the Denver Nuggets, I apologize to Nikola Jokic, who is not only in the MVP discussion and deserved to be on my ballot, but he's one of the greatest players in the history of this game. He's a top-10 center of all time. ..
"I would have still voted for Joel Embiid the MVP, but with Giannis and Joker second and third."
Jackson's MVP ballot had, in order, Embiid, Milwaukee Bucks forward Giannis Antetokounmpo, Boston Celtics forward Jayson Tatum, Oklahoma City Thunder guard Shai Gilgeous-Alexander and Cleveland Cavaliers guard Donovan Mitchell.
Earlier this week, TNT analyst Charles Barkley said, "There's one person -- I don't even know this fool's name -- didn't even have (Jokic) in the top five. People like that shouldn't get a vote. ...
"For the last six months, we talked about Jokic, Giannis and Embiid. If you have a television or you actually watch basketball, if you don't think he should have been in the top five, you don't deserve to vote. ... He's a damn idiot."
--Field Level Media