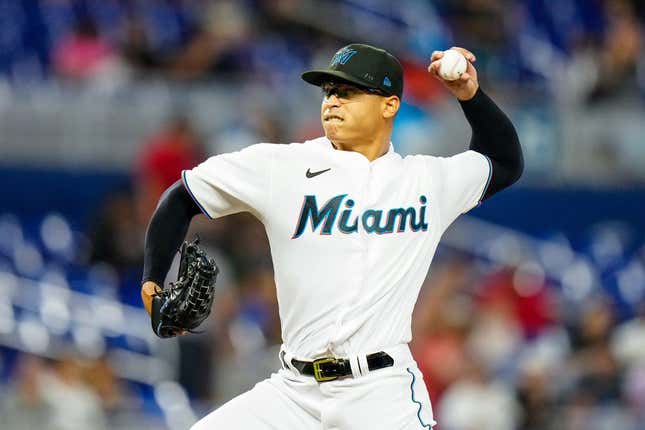 The Miami Marlins, who are 10-5 against teams not named the New York Mets or Atlanta Braves, will open a three-game series on Friday night against the visiting Chicago Cubs
Bass' ERA stinks, but not compared to who he is off the mound | Worst of the Week Countdown
Miami has won all four of its other series, taking two of three from Minnesota, Philadelphia, Arizona, San Francisco and Cleveland.
However, the Marlins are a combined 3-8 against the Mets and Braves. That includes Thursday's game as the Marlins stunned the Braves, scoring all five of their runs in the ninth inning for a 5-4 win
On Friday, Miami will start left-hander Jesus Luzardo (2-1, 3.62 ERA). He is 2-0 with a 2.89 ERA in three career starts against the Cubs
Luzardo, a 25-year-old from Peru who played his high school ball in South Florida, has improved since coming to the Marlins midway through the 2021 season. He was 5-6 with a 4.79 ERA with the Oakland A's, and he has gone 10-13 with a 4.33 ERA since joining Miami
The Marlins won Luzardo's first four starts this year. However, he is coming off his worst start of the season, lasting just 4 1/3 innings and allowing eight hits, one walk and four runs in a 7-4 loss to the Cleveland Guardians on Sunday
Miami needs Luzardo to stabilize a struggling rotation that features starters Johnny Cueto and Trevor Rogers on the injured list with biceps issues.
Marlins ace Sandy Alcantara missed one start with the same issue, and although he returned on Wednesday, his 5.04 ERA is nearly three runs higher than his 2022 number (2.28)
"A lot of teams are going through this -- not just us," Marlins manager Skip Schumaker said of the injuries. "I didn't think it would happen this early, but your depth will be tested eventually. I still think we have enough to win.
It depends. The Marlins are 13-0 this season when holding teams to four or fewer runs. They are 0-13 otherwise
Meanwhile, the rebuilding Cubs are off to a solid start, but they have struggled to close out games, especially Michael Fulmer (0-2, 7.84 ERA). Having apparently lost his job as closer, Fulmer pitched a scoreless seventh inning on Thursday in Chicago's 5-2 win over San Diego
The Cubs on Friday will start right-hander Marcus Stroman (2-2, 2.17). Stroman is 1-0 with a 3.04 ERA in five career starts against the Marlins
Stroman is 0-0 with a 2.95 ERA in three career starts in Miami.
Stroman, a 31-year-old New York native who was Toronto's first-round pick out of Duke in the 2012 draft, is on his third team. Since joining the Cubs last year, he is 8-9 with a 3.27 ERA. That's an improvement over his career ERA of 3.58
Known for his sinker that produces a litany of groundouts, Stroman's strikeout rate -- thanks to a nasty slider -- is up to 9.3, which is on pace to be his career high. But his walks are up to 3.4 from a career rate of 2.5.
As for Chicago's position players, the hottest one may be catcher Yan Gomes, who is hitting .305 with five homers and 12 RBIs in 15 games. Gomes is also impressively handling a pitching staff that has five shutouts. This has been the Cubs have posted five shutouts since 1969
Gomez is one of the keys as the Cubs have gone 13-7 since a 1-3 start
"Yan's getting quality at-bats," Cubs manager David Ross said. "He also provides leadership and game-calling skills.
--Field Level Media