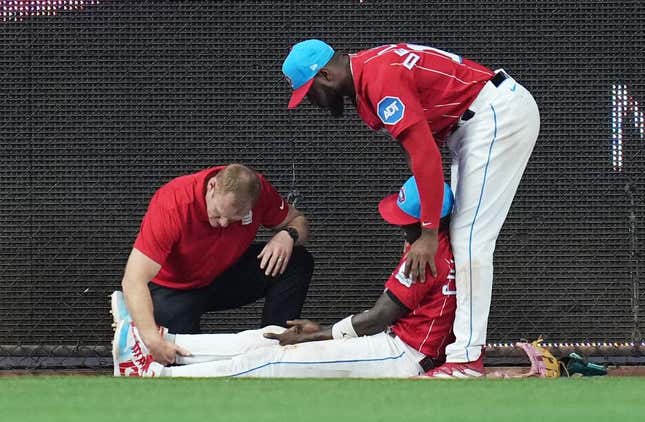 Miami Marlins starting center fielder Jazz Chisholm Jr. landed on the injured list Tuesday and is expected to miss 4-to-6 weeks with turf toe
Chisholm, 25, injured the big right toe on Saturday trying to chase down a line drive in the left-center field gap in the eighth inning. He slammed into the wall and his toe got caught under the fence and bent back.
Chisholm did not play Sunday and saw a foot specialist in Charlotte, N.C., on Tuesday.
In other moves Tuesday, the Marlins reinstated right-hander JT Chargois from the 15-day injured list and recalled infielder Xavier Edwards from Triple-A Jacksonville
Chargois takes the roster spot of closer A.J. Puk, placed on the IL earlier in the week with left elbow nerve irritation.
Chisholm is batting .229 with seven home runs, 16 RBIs and 14 stolen bases in 39 games.
Chargois was placed on the IL with a right oblique strain on April 10. He had yet to give up a hit or a run in five appearances, striking out four in 4 1/3 innings. He last pitched April 9.
Edwards has appeared in three games this season, batting .167.
--Field Level Media