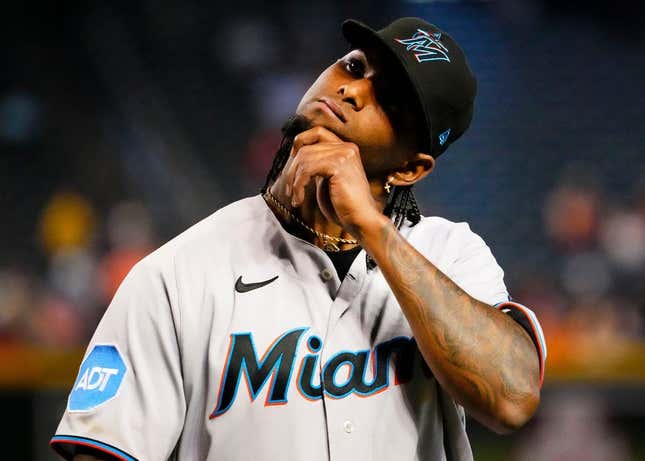 The two franchises were born the same season, forever linking them in baseball history. The Miami Marlins and Colorado Rockies share 1993 as an inaugural season, but they have reached different levels of success
Is Texas or Florida State a bigger national title contender? | Agree to Disagree
Miami has won the World Series twice, the Rockies have been there once and neither team has been a division champion. However, a title isn't on the line when the teams meet in Denver for a four-game series starting Monday night
The Marlins will give the ball to Edward Cabrera (3-3, 5.13 ERA) to open the series, and Chase Anderson (0-0, 0.00) is expected to start for the Rockies in a battle of right-handers
Miami comes into the series having won five of its last seven despite dropping two of its last three games at San Francisco. The Marlins are a game above .500, due in large part to a 15-2 record in one-run games
Monday's game will also be a contrast in starting pitchers. Anderson is a 35-year-old veteran who became part of the Rockies rotation after injuries to three starters, while Cabrera is 25 years old and emerging as a potential ace for Miami
One thing that has held Cabrera back is control issues, with 30 walks in his first eight starts. In his most recent outing, however, he didn't walk anyone in five innings. He left the 4-3 win over Washington on Wednesday due to a blister but came away feeling encouraged by his performance.
"That's the work we've been doing; working on attacking the zone," Cabrera said through an interpreter after the game. "This is a very important part of my game, and that's what we've been working [on]."
He can also draw on his only career start against Colorado, which came last June at Coors Field. He gave up just one hit in six scoreless innings.
Anderson would be making his second start since the Rockies claimed him off waivers. He was designated for assignment by Tampa Bay on May 10, and Colorado grabbed him two days later after German Marquez (Tommy John surgery), Ryan Feltner (fractured skull) and Antonio Senzatela (right elbow) went on the shelf
The journeyman was impressive in his first start for the Rockies, tossing five scoreless innings against visiting Cincinnati on Tuesday night. It was a welcome sight for manager Bud Black, who has been cobbling together a rotation, and witnessed an evolved outing from the veteran
"It's a little different style, but similar from his days at Arizona and Milwaukee," Black said. "Good fastball -- good velocity, good location. Good changeup; for me, that's his best over the years. He's had that little harder slider, which was effective. There's another breaking pitch in there."
Anderson is making the 11th appearance -- and 10th start -- of his career against the Marlins. In his previous outings, he is 3-3 with a 4.14 ERA against them
He will also try to end Colorado's three-game skid. The Rockies had won 11 of their previous 16 games before getting swept in Texas over the weekend while allowing 31 runs in the three games
--Field Level Media