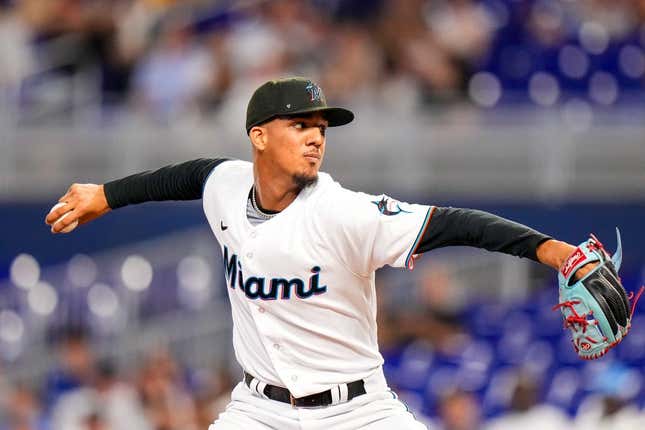 Miami's Eury Perez will put his 21-inning scoreless streak on the line when the visiting Marlins try to end the Atlanta Braves' six-game winning streak on Saturday
How running an NFL team is like running a restaurant | Chef Emeril Lagasse
Atlanta extended its winning streak Friday with a 16-4 victory over the Marlins in the first game of their three-game weekend series. The Braves have won 14 of their past 15 games and completed a 21-4 June. The Braves ended Miami's five-game winning streak and lead the Marlins by seven games in the National League East
Atlanta has won seven of eight games against Miami and is guaranteed to win the season series for the ninth straight year.
The 20-year-old Perez (5-1, 1.34 ERA) will face 39-year-old veteran Charlie Morton (7-6, 3.81) in a matchup of right-handers.
Perez will make his 10th career start and his first against the Braves. In his most recent start Sunday against Pittsburgh, he threw six scoreless innings for the third straight time to earn the win. He has allowed just one earned run over his past six starts
"I'm focused on having fun with my teammates, going out there and competing," Perez said. "Put on a great game. Put on a great show. I have not checked out any numbers, but just go out there and do my job."
His ERA is the lowest in club history through a player's first nine career starts, easily besting the old mark of 2.38 set by Dontrelle Willis in 2003. It is the third-lowest of the Expansion Era, which started in 1961, through nine starts, behind only Fernando Valenzuela (0.91) and Steve Rogers (1.20).
Morton has won his past two starts and beat Cincinnati on Sunday, when he pitched five innings and allowed three runs on seven hits, three walks and seven strikeouts in a 7-6 win.
Morton beat the Marlins on April 25 when he gave up one run over seven innings. In 22 career starts against Miami, Morton is 12-5 with a 3.82 ERA
The Atlanta offense completed a historic June. The Braves hit a franchise-record 61 homers in the month and finished it with a six-homer night in the series opener vs. Miami. Matt Olson hit a pair of homers, and Eddie Rosario, Austin Riley, Sean Murphy and Ronald Acuna Jr. went deep for the Braves, the eighth time they've hit five home runs in a game
"We've got such a talented group, guys who work hard, and we're putting together some good at-bats right now," Olson said. "Top to bottom, it feels like a different guy every night. I know those guys have been saying it, but when you're that deep one through nine, it makes it tough to pitch to."
Olson was 4-for-5 with a triple, four runs and five RBIs to go with the two home runs. He leads the National League with 28 homers and 67 RBI. He has 10 first-inning home runs, three short of Hank Aaron's franchise record set in 1971.
Miami is batting .261 as a team, the third-highest in the National League and 31 points higher than last year. It is the team's highest batting average prior to the All-Star Game since 2017. The Marlins have 33 games with 10-plus hits this season, second only to Atlanta's 37
--Field Level Media