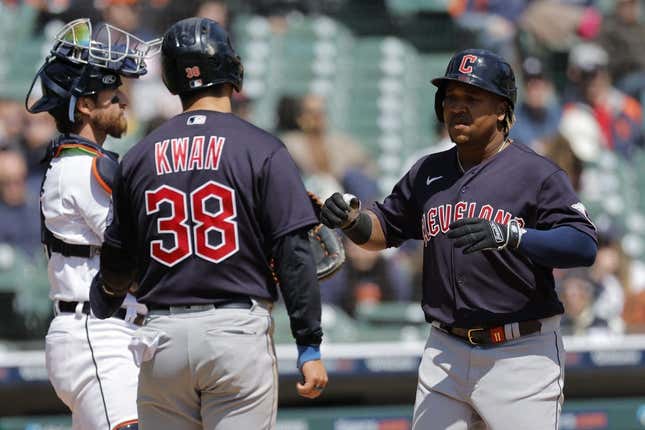 The Cleveland Guardians are set to play their second doubleheader in five days when they are due to host the Miami Marlins for a pair of games on Saturday
Air Jordans are more American than McDonald's French fries | Deon Cole's Ultimate Sports Fantasy
Mother Nature forced Cleveland's scheduled game against the host Detroit Tigers on Monday to be folded into a doubleheader the following day. The Guardians lost both games, 4-3 and 1-0, before salvaging the finale of the three-game series with a 3-2 victory on Wednesday afternoon
Jose Ramirez answered being called out on a clock violation in the fourth inning on Wednesday by belting a three-run homer in the sixth.
"For the next at-bat, I was ready," Ramirez said through an interpreter, per the (Cleveland) Plain Dealer. "The only difference was that I was ready the whole time in the box, making sure that it wouldn't happen again."
Ramirez's second homer of the season boosted his team-leading RBI total to 12.
Thunderstorms in the Cleveland area on Friday night caused the first contest of a three-game interleague series to be wiped out. There was also a 100 percent chance of rain in the forecast for Saturday.
Shane Bieber (1-0, 2.88 ERA) will take the bump for Cleveland in the opener, while Miami had not announced its pitcher. Fellow right-hander Zach Plesac (1-0, 6.92), who was slated to start Friday's game, will pitch the nightcap for the Guardians against lefty Braxton Garrett (0-0, 3.38)
Cleveland's fancy footwork with the rotation keeps highly touted prospect Logan Allen on schedule to make his major league debut in the series finale on Sunday.
"This is the beginning of that next wave that we can hope can impact us and help us win," Guardians manager Terry Francona said
Bieber, 27, allowed three runs on nine hits in six innings in a no-decision against the Washington Nationals on Sunday.
The 2020 American League Cy Young Award winner will be starting against the Marlins for the first time in his career
Plesac, 28, pitched well in his lone home outing on April 9, allowing two runs on five hits in seven innings during a no-decision vs. the Seattle Mariners. He logged his first win of the season six days later despite permitting four runs (two earned) in five innings during a 6-4 victory over the Nationals.
Plesac has yet to face Miami in his career.
The Marlins had won six of seven games before dropping a 5-2 decision in 11 innings to the visiting San Francisco Giants on Wednesday afternoon
Garrett, 25, turned in his best performance in his last outing, yielding one run on four hits in 5 2/3 innings of a no-decision against the Arizona Diamondbacks on April 15.
Like Plesac, Garrett will be facing his Saturday foe for the first time in his career.
On Friday, the Marlins placed left-hander Trevor Rogers on the 15-day injured list due to a left biceps strain
"Hate to say 'good news' with someone going on the IL, but that was good news," Marlins manager Skip Schumaker said. "We're not going to miss him, I don't think, for too long. He has a little strain. With rehab, I think you'll see him (back) sooner than we thought initially.
Miami activated left-hander Steven Okert on Friday after he began the season on the injured list with a left adductor strain.
--Field Level Media