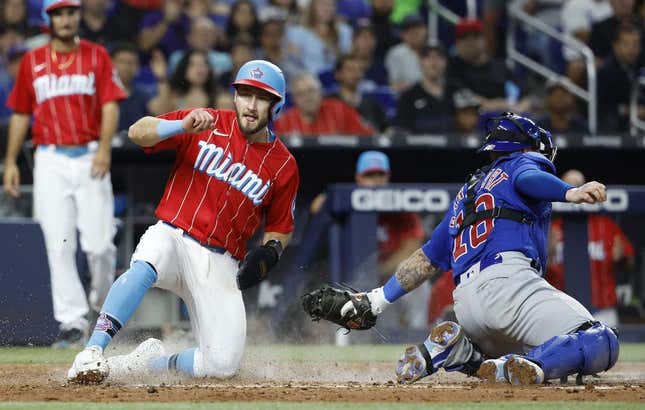 Miami Marlins manager Skip Schumaker said his first team meeting in spring training was about baserunning
'Soccer fandom is full of gatekeepers' says Ted Lasso actor Brendan Hunt
"It shows how good a teammate you are by how hard you run the bases because there is a care factor," Schumaker said. "We've preached that from day one."
The host Marlins, who will try for a three-game sweep of the Chicago Cubs on Sunday afternoon, are 9-0 in one-run games this season, and little things like baserunners making good decisions are often key factors
In fact, in Miami's 7-6 win over the Cubs on Saturday, a baserunning mistake by Chicago's Eric Hosmer proved costly in a two-run, sixth-inning rally that could have grown larger
Miami, which is 14-0 when holding opponents to four runs or fewer, is focused on the fundamentals.
"We took a lot of heat early in the season that we weren't stealing enough bases," Schumaker said. "I think we've showed that we know what we're doing -- being patient, running at the right times and not just running to run because of the new rules."
On Sunday, the Marlins will start rookie right-hander Bryan Hoeing (0-1, 9.82 ERA)
Hoeing, 26, was Miami's seventh-round pick out of Louisville in 2019. He made his major league debut last year. Since then, he has made nine appearances (two starts) going 1-2 with an 11.57 ERA.
He has faced the Cubs just once, pitching one scoreless inning of relief in a game last September
The Cubs will counter Hoeing with left-hander Justin Steele, who is 4-0 and has the best ERA in the National League (1.19)
In his 12 most recent starts, dating to back July 22, 2022, Steele is 5-1 with a 1.07 ERA.
Steele, 27, was Chicago's fifth-round pick in 2014, signing out of the Mississippi high school ranks. He spent parts of seven seasons in the minors, and it wasn't until last year that he became a full-time major leaguer, going 4-7 with a 3.18 ERA.
Armed with high heat and a nasty slider, Steele has blossomed. He has faced the Marlins just once in his career, tossing 4 2/3 scoreless innings while striking out 10 in a 2-1 Cubs victory in August of last season
"He has a country-boy fastball," Cubs catcher Yan Gomes said of Steele
Indeed, that four-seam fastball comprises 60.3 percent of Steele's offerings. He also had a 51.8-percent ground-ball rate in 2022.
Steele aside, the Cubs have had some issues in the bullpen and at the fourth and fifth spots in their starting rotation
There's also a potential problem at first base, where lefty-swinging Hosmer and right-handed-hitting Trey Mancini have struggled.
It's possible the Cubs could soon promote 25-year-old first base prospect Matt Mervis, who last season posted 40 doubles, 36 homers and 119 RBIs at multiple levels in the minors
"At some point, Matt's going to impact the Cubs," Cubs president of baseball operations Jed Hoyer said. "When that is, I don't know.
As for the hottest hitters for each team at the moment, that would be Marlins second baseman Luis Arraez and Cubs third baseman Patrick Wisdom
Arraez went 3-for-4 on Saturday and leads the majors with a .442 batting average. He has played in 24 games and has produced multiple hits in half of them.
Wisdom leads the Cubs with 10 homers. He went deep again on Saturday, hitting a two-run shot
--Field Level Media