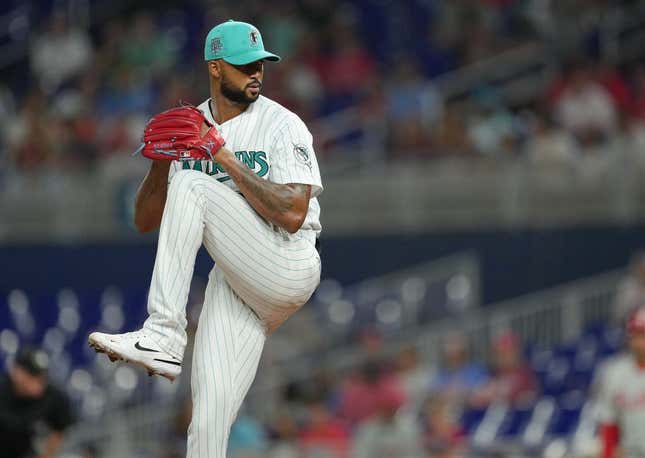 Step by step, Miami Marlins ace Sandy Alcantara is approaching his Cy Young Award form
How running an NFL team is like running a restaurant | Chef Emeril Lagasse
The right-hander will try to continue the process Wednesday afternoon when he faces the host St. Louis Cardinals in the finale of a three-game series. St. Louis won the first two games, 6-4 on Monday and 5-2 in 10 innings on Tuesday
Last season, Alcantara finished 14-9 with a 2.28 ERA in 32 starts en route to capturing the National League Cy Young Award. This season, he is 3-8 with a 4.64 ERA through 19 starts.
After recording 5.04, 4.85 and 4.59 ERAs in his first three months this year, Alcantara is at 3.57 ERA with 16 strikeouts and just three walks in three starts in July.
He has allowed two or fewer earned runs in three of his past four outings.
"I am trying to think of what I was doing in my past few outings and trying to get better every day," Alcantara said.
Most recently, he surrendered three runs, two earned, on eight hits in six innings during a 5-2 loss to the Baltimore Orioles on Friday. According to Statcast, his fastball velocity reached a season-high 100.6 mph and was 98.6 mph on average.
"Everything was there: command, velo, just one walk," Alcantara said. "I feel good about it, coming out of the break. I feel bad because we didn't win the game."
Marlins manager Skip Schumaker saw progress in that performance, despite the solo homers Alcantara allowed to Adam Frazier and Cedric Mullins
"I think he'll tell you he made two big mistakes with the home runs," Schumaker said. "Other than that, his fastball velo was as good as it's been, maybe the whole year. His changeup was good. Slider was good. Got a lot of ground balls."
Alcantara did not face the Cardinals, his former team, when the squads met earlier this month in Miami. He is 1-3 with a 1.24 ERA in five starts against St. Louis in his career
He is catching the Cardinals in the midst of a hot streak. St. Louis has won four straight games and six of its past seven to finally escape the National League Central cellar
"The guys have mentally been there and haven't been rewarded with the same outcomes of the last several games," Cardinals manager Oliver Marmol said. "But I really do feel like our guys mentally have been in a pretty good spot
"It's just offense, pitching, bullpen, defense, it's all coming together at once, and that's what it's supposed to look like."
The Cardinals will shoot for a series sweep while countering Alcantara with a string of relievers, beginning with right-hander Dakota Hudson, a former starter, in a bullpen game
Hudson (1-0, 1.80 ERA) has appeared in four games since his major league season debut on July 1. His most recent appearance came on Saturday, and it was his longest. In 3 1/3 innings, he gave up no runs and four hits with no walks and two strikeouts and picked up the win over the Washington Nationals.
Hudson pitched 2 2/3 innings at Miami on July 5. He surrendered two runs on two hits and three walks with one strikeout and gave up a solo home run to Jacob Stallings. Hudson has pitched in five games in his career vs. the Marlins, two of them as a starter, and is 2-0 with a 3.12 ERA in 17 1/3 innings
The Cardinals delayed the activation of outfielder Tyler O'Neill until Thursday to keep an extra pitcher on the roster. O'Neill has recovered from a sore lower back that has sidelined him since early May
Miami first baseman Garrett Cooper is questionable for the Wednesday game. He departed the Tuesday game after fouling a ball off of his shin in the ninth inning.
The Marlins optioned pitcher Robert Garcia to Triple-A Jacksonville on Tuesday while activating pitcher Edward Cabrera from the injured list. Cabrera started against the Cardinals and tossed five-plus innings of one-run ball
--Field Level Media