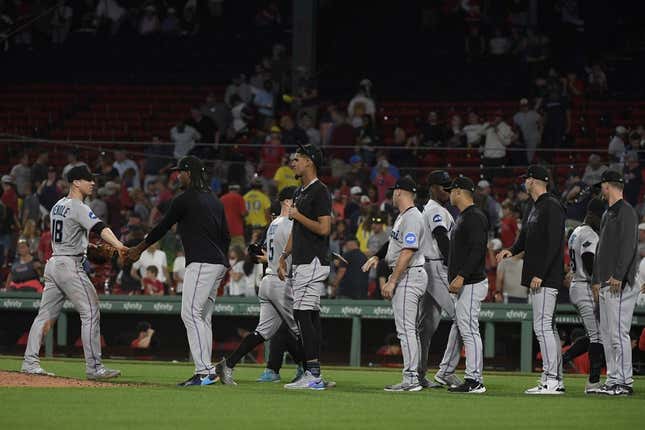 Following a 10-1, series-opening triumph on Tuesday, the Miami Marlins will look to keep up their winning ways when a three-game series against the Red Sox continues in Boston on Wednesday
How running an NFL team is like running a restaurant | Chef Emeril Lagasse
Miami has won three straight games and nine of 12, and the Marlins remain in a National League playoff position at nearly the halfway mark of the season
Marlins right-hander Sandy Alcantara, who got the win on Tuesday in one of his best outings of the season, said, "Everybody's happy. Everybody's supporting each other. But what we are doing this year is something that people will know (about), because we surprised a lot of people this year, and we've just got to keep doing what we're doing.
Braxton Garrett (3-2, 3.64 ERA) takes the ball for Miami in the second of three games against Boston. It will be the 25-year-old's first career start against the Red Sox
While the Marlins' rotation also includes reigning Cy Young Award winner Alcantara and star rookie Eury Perez, Garrett is in the midst of an strong run of his own. The left-hander has allowed just two earned runs -- one in each of his two most recent starts -- over his past 18 1/3 innings
Despite taking a no-decision on Thursday in his start against the Pittsburgh Pirates, Garrett became the first left-hander in Marlins history to record 13 strikeouts without walking a batter. He allowed just two runs, one earned, on three hits across seven innings
"This guy can really pitch," Miami manager Skip Schumaker said. "If you have stuff and pitch, you'll be an All-Star. He might be an All-Star. He's pitching like one and putting together some really good outings for us."
Another exciting piece of Miami's success is Luis Arraez's chase for .400. The second baseman went 2-for-5 on Tuesday and has a 10-game hit streak while sitting at .399.
The Marlins' lineup as a whole banged out 19 hits to tie a season high on Tuesday. Joey Wendle went 4-for-4 with two runs
The Red Sox did not officially name a Wednesday starter following the Tuesday game, though manager Alex Cora named Kaleb Ort (1-1, 5.79 ERA) as the "most likely" option to get that nod
Only one of Ort's 17 appearances this season was a start, when he went 2 1/3 innings to help Boston in its June 18 doubleheader sweep of the New York Yankees.
He has since pitched twice in relief, most recently recording the last two outs of the eighth inning on Sunday against the Chicago White Sox.
After finishing 26-50 against American League East opponents last season, the Red Sox have taken their lumps during interleague play this year. Boston is 11-16 against the NL -- including 2-11 at home, which is the worst mark in the majors
All in all, Boston is exactly a .500 team for the first time in more than a week and will look to step it up in the dog days of the summer.
"40-40, yep. No more, no less," Red Sox manager Alex Cora said. "Like I said, we're not great, we're not bad. We are where we're at. Obviously, we've got a long way to go. (Wednesday) is the halfway game of the season and we just got to be better, man. That's the bottom line.
Cora's club has been held to a single run in back-to-back games for the third time this season. The Red Sox also had a three-game stretch in May when they managed a total of one run
On Tuesday, Alex Verdugo had two doubles and Triston Casas went 3-for-4 to lead the Boston offense. It wasn't nearly enough as Garrett Whitlock allowed 11 hits and six runs in 4 2/3 innings.
--Field Level Media