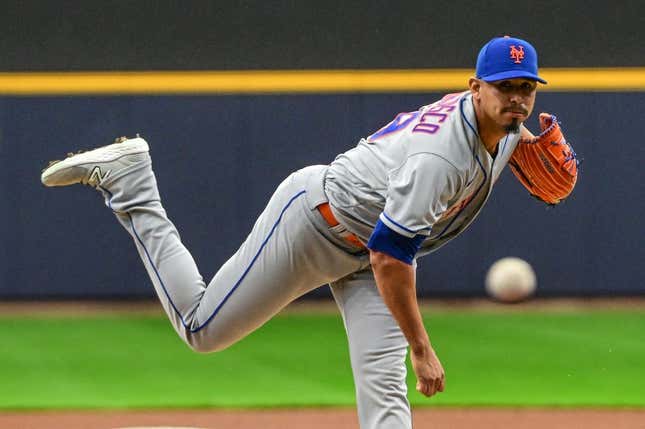 Miami Marlins manager Skip Schumaker said Saturday afternoon that he enjoyed facing one of the National League's top contenders, the New York Mets, so often in the season's first 10 days
'Soccer fandom is full of gatekeepers' says Ted Lasso actor Brendan Hunt
But the Marlins might be relieved that Sunday's series finale marks the last time they'll see the Mets until September
The visiting Marlins will look to end their struggles against the Mets when Miami visits New York for the seventh game of the season between the National League East rivals
Marlins left-hander Braxton Garrett (0-0, 6.00 ERA) is slated to make his first start of the season when he takes the mound against Mets right-hander Carlos Carrasco (0-1, 11.25)
The Mets rolled to another win over the Marlins on Saturday, when Kodai Senga tossed six solid innings and Pete Alonso and Eduardo Escobar each hit two-run homers in a 5-2 victory
The Marlins fell to 1-5 this season against the Mets, who have outscored them 31-13. After Sunday, the two teams won't see each other again until a three-game series in Miami from Sept. 18-20
"Playing one of the best teams in the league, it's always a challenge, right?" Schumaker said. "But it's a good test for us and to see where we're at. Feels like we've been in every single game, which has been good for us. But at the end of the day, you want to win these games, there's no doubt."
The Marlins have scored three runs or fewer in all six games against the Mets, including a 2-1 win at home on March 31. Miami stranded eight runners on base Saturday
"We just give ourselves a chance every time, which I'll take," Schumaker said. "Eventually, we'll break through. I'm pretty confident in that."
The Marlins have provided a confidence boost for the Mets, who were outscored 26-6 in losing three games earlier this week to the Milwaukee Brewers, the only other opponent they've faced this season
Senga improved to 2-0 against the Marlins on Saturday, when he set down 14 of 15 batters before Jazz Chisholm Jr. ended his shutout bid with a homer leading off the sixth. The 30-year-old rookie, whose forkball is dubbed "the ghost fork," has a 1.59 ERA with 14 strikeouts in 11 1/3 innings against the Marlins
"It's fun to watch him pitch," Mets manager Buck Showalter said. "He's got an idea. He's got a talented hand.
The Mets will get a chance to see their most promising prospect Sunday afternoon when rookie catcher Francisco Alvarez is expected to make his first start of the season. Alvarez, who was recalled Friday to replace Omar Narveaz (left calf strain) on the active roster, sat out the last two games as Tomas Nido started behind the plate
Alvarez was 2-for-12 with a homer in five games late last season with the Mets
"At some point, they have to be comfortable with you and you have to get comfortable with them, and there's only one way to do that," Showalter said. "All the guys have no problem throwing to him. In fact, they embrace it."
Garrett hasn't pitched since making his season debut April 1, when he gave up two runs over three innings of relief in the Marlins' 6-2 loss to the Mets. He is 0-1 with a 4.08 ERA in four career games (three starts) against New York
Carrasco took the loss Monday, when he gave up five runs over four innings as the Mets fell to the Brewers, 10-0. He is 5-1 with a 2.63 ERA in 10 career starts against the Marlins
--Field Level Media