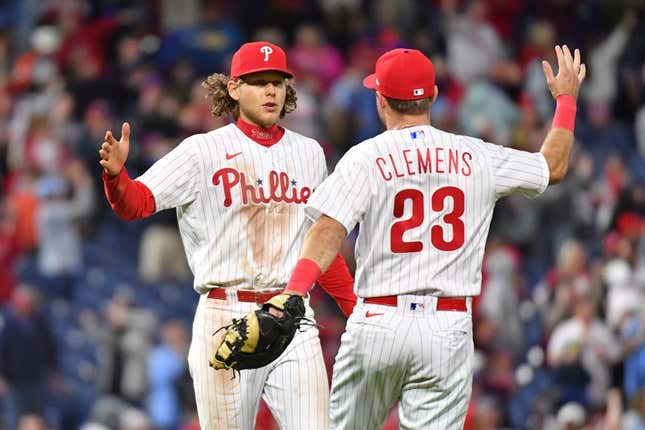 Alec Bohm arrived in spring training with about 15 extra pounds of muscle, and the bulked-up third baseman continued his torrid offensive pace in the Philadelphia Phillies' 15-3 victory over the Miami Marlins on Monday
'Soccer fandom is full of gatekeepers' says Ted Lasso actor Brendan Hunt
Bohm hit a three-run home run, singled twice, tied his career high with six RBI and ended the game hitting .351.
"I'm not trying to hit homers or muscle up," Bohm said in a postgame interview with NBC Sports Philadelphia. "I'm just trying to put a good swing on it."
The Phillies will look for their second straight win in the three-game series when they host the Marlins again on Tuesday evening
After an inconsistent offense through the first nine games, the Phillies had 20 hits Monday, with 10 hits and nine runs against reigning National League Cy Young Award winner Sandy Alcantara
"It's just getting in there and competing," Bohm said. "We did a good job of stringing together good at-bats."
The Phillies will hand the ball to right-hander Aaron Nola (0-1, 7.45 ERA) on Tuesday. Nola is 5-8 with a 3.18 ERA in 20 career starts against the Marlins
Phillies manager Rob Thomson inserted Bryson Stott into the leadoff spot and dropped Trea Turner to No. 2. They combined for five hits, four runs scored and an RBI
"It really lengthens the lineup," Thomson said of hitting Stott first. "It gets two guys at the top who get on base, steal bases and create havoc."
Backup Garrett Stubbs started in place of catcher J.T. Realmuto but appeared to struggle running most of the game. Thomson said Stubbs strained a hamstring, and his immediate status for Tuesday and beyond is unknown.
"I told him, 'Do not run,'" Thomson said.
The Marlins will look to rebound after a poor performance
Yuli Gurriel had two hits, including a home run, Garrett Cooper added three hits and an RBI, and Luis Arraez chipped in with two hits for the Marlins, who fell behind 13-0 on Monday before scoring three times
"I think he was just mechanically off. He's human," Marlins manager Skip Schumaker said of Alcantara. "Sometimes, you're going to see games like this.
With the game out of reach, Schumaker opted to pitch reliever Devin Smeltzer for the final four innings instead of going deeper into the bullpen.
Smeltzer gave up 10 hits and six runs, five earned, in four innings.
"That's what he's here for, to eat up innings when stuff like this happens," Schumaker said.
Jesus Luzardo (1-0, 0.71 ERA) is scheduled to start for the Marlins. The left-hander is 1-0 with a 3.00 ERA in three career starts against the Phillies
In Luzardo's last start, he was terrific in seven innings against the Minnesota Twins as he allowed five hits, one run and struck out 10.
"Filling up the zone and eliminating the walks -- that's something I focused on after the last outing, the four walks," Luzardo said after his most recent outing. "Just filling up the zone, getting ahead and throwing first-pitch strikes. I feel like that's something I struggled with last game."
The Marlins will have right-hander George Soriano available on Tuesday. Soriano was recalled from Triple-A Jacksonville, and JT Chargois was placed on the 10-day injured list with a strained right oblique
--Field Level Media