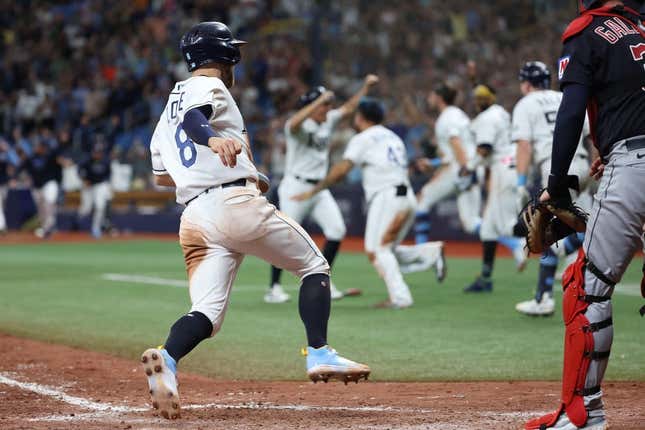 The New York Times set a high standard in early May when it posted the following headline: "The Tampa Rays Are Better Than Everyone. At Everything."
How running an NFL team is like running a restaurant | Chef Emeril Lagasse
That was during an incredible 29-7 run by the Rays to open the season. Tampa Bay, which opens a two-game series on the road against the Miami Marlins on Tuesday, has cooled off since its impressive start. That was inevitable.
Still, the Rays (80-52) begin this week with a comfortable 8 1/2-game lead in the American League wild-card race.
If nothing else, the Rays don't back down, even when facing teams with more tradition, titles and pedigree.
That was apparent Sunday when the Rays beat the New York Yankees 7-4 amid two eighth-inning, bench-clearing incidents that did not appear to escalate past anything more than trash talk.
After the game, Rays second baseman Brandon Lowe dismissed the Yankees, who have had a dismal season.
"It's a last-place team," Lowe said. "We don't need to worry about it. We need to focus on what we need to do down the stretch. We're focused on a bigger picture (than the Yankees)."
The Rays, closing in on their fifth straight playoff berth, are set to start right-hander Aaron Civale (6-3, 2.59 ERA) on Tuesday. The Rays acquired Civale on July 31 from the Cleveland Guardians, and in four starts with Tampa Bay he is 1-1 with a 3.54 ERA.
Civale, who has never faced the Marlins, has been better on the road with a 3.54 ERA in 43 career starts than at home where he has a 4.01 mark in 37 starts.
Miami will counter with right-hander Sandy Alcantara (6-11, 4.16 ERA), who won the National League's 2022 Cy Young Award with a 2.28 ERA and MLB highs in complete games (six) and innings (228 2/3).
This year, Alcantara has failed to match his high standard, but July (3.31 ERA) and August (3.03) have been the best months of his season.
In five career starts against the Rays, Alcantara is 2-2 with a 2.90 ERA.
Alcantara is also a strong pitcher at home, sporting a 2.92 career mark in 69 games. On the road, he has a 3.70 ERA in 75 games. This year, Alcantara's ERA is a full run better at home (3.61) than on the road (4.61).
Offensively, the Marlins (66-65) are powered by outfielder/DH Jorge Soler, who tops the team in home runs (35) and RBIs (71) as Miami sits three games out of a wild-card spot in the National League. Soler has homered seven times in his past 12 games and leads the majors with 19 go-ahead homers.
"(Soler) has been winning game after game for us," Marlins manager Skip Schumaker said.
Meanwhile, Marlins second baseman Luis Arraez leads the majors in batting average at .350 but is hitting just .227 in August, while Miami has dropped eight of its past 11 games.
Tampa Bay is powered by third baseman Isaac Paredes, who tops the team with 26 homers and 80 RBIs. Seven other Rays players have hit at least 17 homers this season.
Rays outfielder/DH Harold Ramirez, a 28-year-old from Colombia who started his career with the Marlins, is batting .298 with nine home runs and 51 RBIs in 98 games.
—Field Level Media