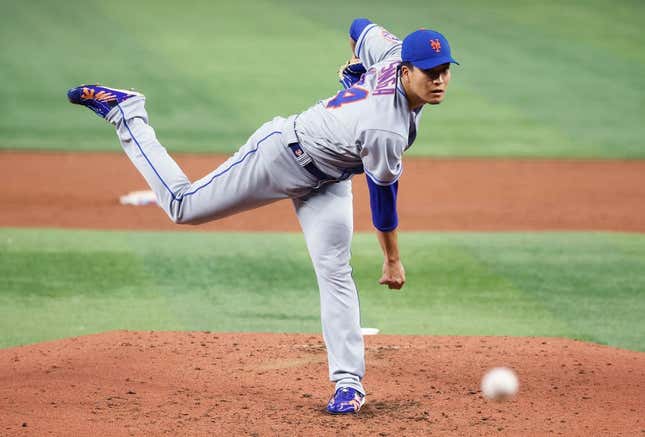 The New York Mets were never too worried about how they fared over the first seven games of the season
Still, they were relieved to bounce back as they did on Friday.
The Mets will look to lock up another series win over the Miami Marlins on Saturday afternoon, when New York is slated to host its National League East rival in the middle game of a three-game set
Right-hander Kodai Senga (1-0, 1.69 ERA) is slated to start for the Mets against left-hander Trevor Rogers (0-1, 6.23) in a rematch of pitchers who opposed each other on Sunday in Miami
The Mets won their home opener on Friday, beating the Marlins 9-3. Tylor Megill tossed six scoreless innings and Starling Marte, Francisco Lindor and Pete Alonso all homered in the late innings
The nine runs were more than the Mets scored in their previous three games combined, when they were outscored 26-6 while being swept by the Milwaukee Brewers
After a rainout on Thursday, the Mets looked fresh on Friday, when they drew 12 walks -- the most by a team in the majors this season and their most since coaxing 13 walks in a 13-inning game against the Chicago White Sox on June 1, 2016. New York scored four runs over the first six innings despite recording just four hits
Lindor (two-run shot) and Alonso provided insurance with back-to-back homers in the eighth for the Mets, who improved to 41-21 all-time in home openers and 11-4 at Citi Field since it opened in 2009
"It's good to come and play better, but we've got a lot of veteran guys on this team that understand that one series doesn't dictate the season," said New York's Brandon Nimmo, who drew a career-high four walks. "As much as we would not like to get swept, we understand that sometimes it happens.
"Sometimes you run into some hot teams and you're not swinging the bat particularly well or pitching well. So that was one of those series (at Milwaukee)."
The Marlins are looking to avoid another one of those series against the Mets. Miami was outscored 17-8 in dropping three of four to open the season against New York
The 12 walks issued by the Marlins on Friday were tied for the second-highest, single-game total in franchise history. The Mets have drawn 31 walks in five games against Miami, which walked just seven batters in a three-game series against the Minnesota Twins that ended on Wednesday
"They grinded out at-bats," Marlins manager Skip Schumaker said of the Mets. "It's a combination of us not throwing in the strike zone (as well as) a really good lineup and just grinder type of at-bats that kind of wore us down. They did a great job of staying in the strike zone themselves.
Senga won his major league debut against the Marlins on Sunday, when he allowed one run over 5 1/3 innings during the Mets' 5-1 victory. The 30-year-old right-hander signed a five-year deal with New York in December after recording 87 wins over 11 seasons in Japan
Rogers took the loss on Sunday after giving up four runs (three earned) in 4 1/3 innings. He is 2-2 with a 3.21 ERA in seven career starts against the Mets
--Field Level Media