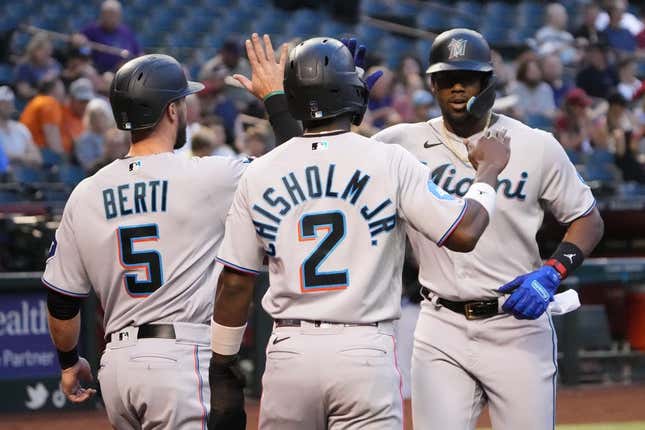 The Miami Marlins will attempt to finish .500 on their two-city road trip when they close a three-game series against the Arizona Diamondbacks on Wednesday with the rubber match in Phoenix
Bass' ERA stinks, but not compared to who he is off the mound | Worst of the Week Countdown
Miami evened the series on Tuesday when Jorge Soler homered twice in a 6-2 win. Jazz Chisholm Jr., who went 1-for-2 and drew two walks, scored three runs, including coming home on each of Soler's homers.
Soler, who drove in five runs, has four home runs and 10 RBIs over his past six games.
"I noticed I was hitting a lot of ground balls, so I got with my hitting coach and tried to lift the ball a little bit," Soler said via an interpreter in his postgame interview with Bally Sports Florida. "It's going to be a happy flight if we win that (win on Wednesday)."
Miami began the trip by losing two of three games to the Chicago Cubs.
Meanwhile, the Tuesday loss dropped Arizona to 3-2 at the midway point of a 10-game homestand.
"I thought we were a hit or two away from putting ourselves back into it," Diamondbacks manager Torey Lovullo said. "It was a nice day for (Evan Longoria) with three hits and hitting a home run. He obviously has been grinding through some of the past at-bats over the past four or five opportunities he's had, so it was good to see him clip a ball and get that home run.
Longoria's 3-for-4 performance included his fourth long ball of the season, a solo shot in the eighth inning.
The veteran third baseman went hitless in five of six outings prior to the beginning of the Miami series, but he now heads into Wednesday's affair with his first hitting streak since a three-game run from April 3-10.
Right-hander Merrill Kelly (3-3, 2.75 ERA) will start for Arizona on Wednesday. After taking losses in each of his first three home starts this season, Kelly rebounded his last time out in Phoenix with a seven-inning, one-run, 10-strikeout performance during a win over the Washington Nationals on Friday.
The 10 strikeouts were his most since recording 12 in a May 2021 meeting with the Los Angeles Dodgers. Twelve is the same number of strikeouts Kelly has thrown in his three career starts against Miami combined, with four in each game.
Kelly is 0-2 with a 6.75 ERA in his three appearances against the Marlins. He received no-decision his last time facing them, throwing five innings and yielding three runs and seven hits on May 11, 2022
Soler is 0-for-5 with three strikeouts and a walk in six career plate appearances against Kelly.
Miami's Wednesday starter, Edward Cabrera (2-3, 4.78 ERA), is after his first road win of 2023.
Each of Cabrera's three losses this season have been away from home, including his most recent start: a 4-1 loss to the Cubs on Friday in which he struck out eight and gave up three runs in five innings.
The 25-year-old right-hander will be facing Arizona for the first time in his career.
--Field Level Media