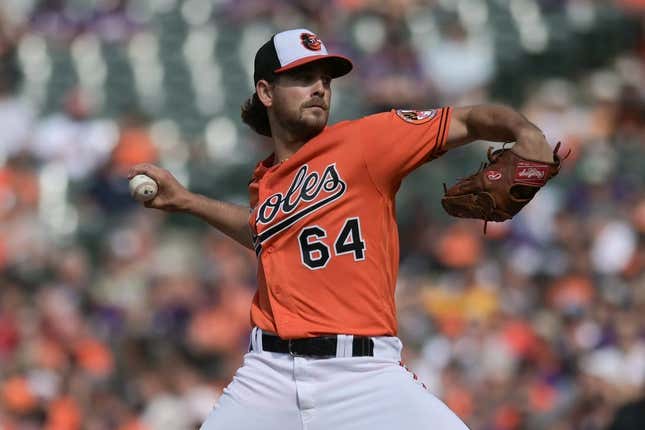 Two teams that have turned into surprise playoff contenders begin the second half by facing one another.
How running an NFL team is like running a restaurant | Chef Emeril Lagasse
The Miami Marlins and Baltimore Orioles will launch a three-game series Friday night in Baltimore
The Orioles won their final five games before the break following a 1-6 stretch
"Hopefully, we can start the second half on the right note," Orioles manager Brandon Hyde said
Baltimore has added first baseman Ryan Mountcastle back to the mix. He was away from the team for a month while dealing with vertigo.
Mountcastle delivered a pinch-hit, RBI single in his return to the Orioles on Sunday at Minnesota
"This feels like the longest I've ever gone without playing, and it wasn't fun at all," Mountcastle said. "Just happy to be back and to feel like a normal human again."
Mountcastle slugged 55 home runs across 2021 and 2022, but he might be coming off the bench for the short term.
"If you look at our bench on a daily basis, there are really good players," Hyde said. "... I'm really excited about that depth that we have because we're going to need it."
First baseman Ryan O'Hearn turned out to be a key contributor during Mountcastle's absence. He has posted a .302 batting average with seven home runs in 46 games.
"If O'Hearn keeps doing what he's doing, I'm not going to be taking him out," Hyde said.
Miami had a memorable first half. Its 53 wins marked the most entering the All-Star break in team history.
The Marlins are winners of five of their last seven games. Take away a three-game sweep at the hands of the baseball-best Atlanta Braves, and Miami has racked up 10 wins in a 12-game span
"I'm proud of the guys stepping up when we had injuries early on and figured out their roles and be OK with everything we've given them," manager Skip Schumaker said. "They've grabbed a hold of it and attacked it and it's been fun to watch them grow."
The Marlins have received a boost from center fielder Dane Myers, who joined the team for his major league debut earlier this month. He's batting .409 with six runs batted in across six games
"Being here in the bigs and settled in," Myers said. "Just trying to play my game, have fun, and it's working out."
The Marlins hold an 11-4 record in American League ballparks this year, most recently sweeping three games in late June at Boston
Right-hander Dean Kremer (9-4, 4.78 ERA) goes to the mound for the Orioles. He had one of his most effective outings in his last game by defeating the New York Yankees on July 5, allowing one earned run with 10 strikeouts in seven innings
Baltimore has won four of the last five games started by Kremer, who has never faced Miami.
The Marlins will have right-hander Sandy Alcantara (3-7, 4.72 ERA) as their starting pitcher. Miami has won only one of his last four starts, but he logged 6 2/3 strong innings by giving up only one run last Friday against the Philadelphia Phillies
Alcantara won his only career appearance against Baltimore, allowing three runs in six innings of a 2021 game at Baltimore. Cedric Mullins and Austin Hays homered off Alcantara in that game.
--Field Level Media