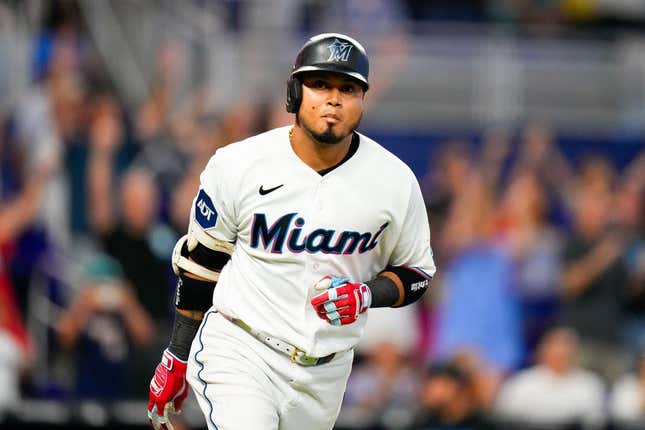 The "Citrus Series" features a couple of struggling playoff contenders looking to regain their footing. The series opener also matches two hard-throwing right-handers with impressive strikeout numbers.
How running an NFL team is like running a restaurant | Chef Emeril Lagasse
Plenty is on the line when the Miami Marlins face the Tampa Bay Rays on Tuesday in the first of two interleague games in St. Petersburg, Fla
The Marlins snapped an eight-game losing streak with a 3-2 win in 10 innings over the Colorado Rockies. It was their first win since the All-Star Break
Tampa Bay, meanwhile, has been in a downward cycle for a while, having lost three of four to the Baltimore Orioles and seven of eight overall.
"I'm guessing every guy in there right now is feeling a sense of urgency of wanting to contribute ... and wanting to have that big swing that gets us going," Rays manager Kevin Cash said after Sunday's 5-3 loss. "It's just not coming right now.
In the opener on Tuesday, Miami will go with Edward Cabrera (5-5, 4.50 ERA), while Tampa Bay counters with Tyler Glasnow (3-3, 3.62).
Cabrera has faced Tampa Bay just once in his career, allowing three earned runs in three innings (9.00 ERA) of a loss in 2021. Glasnow has an 0-1 mark and 5.28 ERA in three starts against Miami.
Both pitchers possess powerful stuff, and putting the ball in play will be a challenge for both offenses.
Cabrera has struck out 90 in 72 innings for 11.25 strikeouts per nine innings. Glasnow has been even more overpowering, boasting a 13.17 K/9 after fanning 80 in 54 2/3 innings.
The Rays are just 4-14 in July, and the Marlins present a formidable team with their hard-throwing staff
"We still have a lot of time," Rays All-Star Yandy Diaz said through an interpreter. "We still have two months or so to go. We're just going to stay focused and stay positive, and I think we're going to come out of it.
Sunday's setback was an example of how the Rays have lacked key hits in opportune situations. Tampa Bay drew six walks and had two batters hit by pitches. But the offense had just three hits
One of those hits was a home run by Diaz in the fifth inning, his second long ball of the month.
The Marlins dropped two of three at home to the Rockies, but did prevail in the series finale after blowing a one-run lead in the ninth inning
Pitching has largely carried the Marlins into wild-card contention, but in recent games, the bullpen has yielded runs late in games. Closer A.J. Puk allowed a game-tying home run to Randal Grichuk in the ninth inning
"The last couple of games were more who we are," Miami manager Skip Schumaker said. "I think we've had some timely hitting and good starting pitching. The 'pen has given up a couple of late-inning runs, but that was going to happen eventually. They were so good in the first half."
All-Star second baseman Luis Arraez capped a three-hit day with a game-winning hit in the 10th inning, raising his MLB-leading batting average to .379.
"I want to win every day," Arraez told reporters in Spanish on Sunday. "That's why I'm here. And especially, we lost a lot of games, but we're still fighting, we're fighting, and then we come back. (Monday) we get a day off, and then we've got to go to Tampa, and then we just need to keep continuing to play hard."
--Field Level Media