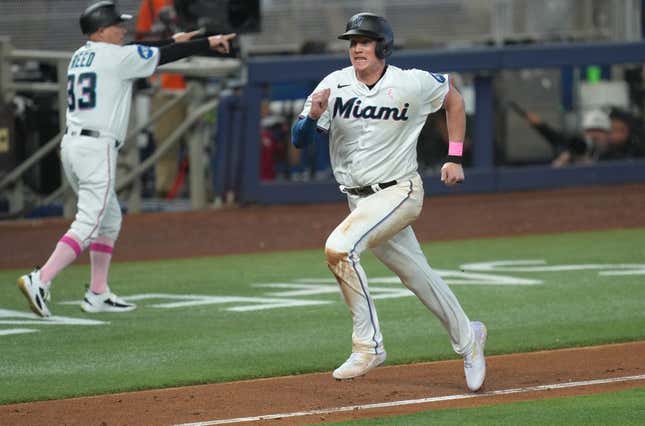 The Miami Marlins, who are just 4-8 in May after a 16-13 start to the season, are set to open a three-game series against the visiting Washington Nationals on Tuesday night
Last year, the Marlins also had a solid start (12-8) only to slump in May (7-19). They went on to finish the year 69-93. It was their 12th losing season in the past 13 years, with the only exception being the COVID-shortened 2020 campaign
This year, under new manager Skip Schumaker, the Marlins have been hit with adversity as closer A.J. Puk (nerve irritation) and outfielder Jesus Sanchez (hamstring strain) landed on the injured list on Sunday. Sanchez had been Miami's hottest hitter in May with a 1.280 on-base-plus-slugging percentage, while Puk has six saves and a 3.07 ERA this season
Puk and Sanchez joined several other key Marlins on the IL, including outfielder Avisail Garcia and starting pitchers Trevor Rogers and Johnny Cueto
In addition, center fielder Jazz Chisholm Jr. -- Miami's most dynamic player in terms of his power-speed combination -- missed Sunday's game due to a toe injury. His status for Tuesday has not yet been determined.
The good news for the Marlins is that they welcomed 2022 All-Star first baseman Garrett Cooper back from the IL on Sunday. His RBI double in his first game back put the Marlins ahead for good in a 3-1 win over the Cincinnati Reds
"Every season, you go through injuries," Cooper said. "It's never easy. ... Sanchez especially, swinging the bat as good as anybody in the big leagues. It sucks to go down like that, and hopefully he's back soon, but everybody needs to play their part moving forward."
That certainly includes left-hander Jesus Luzardo, who will start for Miami on Tuesday. Luzardo (3-2, 3.38 ERA) has been Miami's best starting pitcher so far this season.
But Luzardo has yet to beat Washington in four career starts, going 0-2 with a 7.58 ERA.
The Nationals are the opposite of the Marlins: They slumped in March and April (10-17) but have improved in May (8-6)
"Let's forget about the first week of the season," Nationals manager Dave Martinez said after his squad beat the New York Mets 10-3 on Monday. "We've been playing really well.
On Tuesday, Washington will start right-hander Josiah Gray (3-5, 2.96). In eight career starts against the Marlins, Gray is 1-3 with a 4.96 ERA. In five starts in Miami, though, he is 1-1 with a 3.41 ERA
Last season, Gray had trouble commanding his fastball and led the National League in home runs (38) and walks (66) allowed. But Gray, who has a plus slider, is 3-1 with a 2.25 ERA over his past four starts.
Gray, in his third season with Washington, is one of his team's younger veterans at age 25. The Nationals won the World Series in 2019 but had their team gutted since then as management traded away established standouts in a massive rebuilding effort
One of the players Washington got back in those salary dumps is CJ Abrams, a 22-year-old shortstop who had a .604 OPS in 90 games as a rookie last season.
In 39 games this season, Abrams has a .722 OPS.
"He doesn't panic," Martinez said of Abrams. "Nothing seems to rattle him."
--Field Level Media