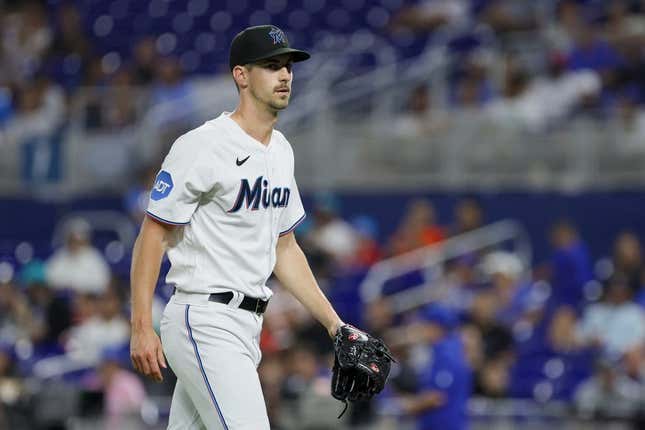 Bryan Hoeing, a 6-foot-6 right-hander for the Miami Marlins, once was recruited by then-Butler coach Brad Stevens, who now is the president of basketball operations for the Boston Celtics
How running an NFL team is like running a restaurant | Chef Emeril Lagasse
These days, Hoeing -- who grew up in basketball-mad Indiana -- is taking his shot at a career in Major League Baseball, and he could be the most improved pitcher on the Marlins' roster
Hoeing, who will face the visiting Pittsburgh Pirates on Saturday afternoon, posted a 1-1 record with a 12.08 ERA in eight games (one start) as a rookie last season
This season, he is 1-1 with an impressive 2.70 ERA. He has made 17 appearances, including three starts.
"I'm finally pitching instead of trying to blow it by guys," said Hoeing, 26, who has yet to face the Pirates in his career
Hoeing will face a Pittsburgh team that on Friday snapped a 10-game losing streak with a 3-1 victory over Miami. The Pirates were trailing by a run entering the top of the ninth
"I'm really proud of them," Pirates manager Derek Shelton said after the win
Meanwhile, Hoeing has a compelling personal story. He was just 3 years old when he lost his father, John, who suffered from epilepsy.
Basketball was a big influence for Hoeing since his mother, Donna, and his aunt, Cindy, were starting guards at the Division I level at Ball State and Purdue, respectively.
But Hoeing preferred baseball, and it has proved to be a good choice -- at least once he overcame injuries and got in shape.
In high school and college, Hoeing had two knee surgeries and an elbow operation. He was Miami's seventh-round pick out of Louisville in 2019, and he has made an under-the-radar rise to the majors.
In 2020, during the start of COVID-19, Hoeing dropped 15 pounds by cutting out sweets. He cut his body fat from 17 to 10 percent.
Hoeing now has a spiked slider to go with his fastball, sinker and changeup.
The Marlins on Saturday are hoping to support Hoeing with an offense that includes second baseman Luis Arraez, who leads the majors with a .402 batting average
Pittsburgh will counter Hoeing with rookie right-hander Osvaldo Bido (0-1, 3.60 ERA), a 27-year-old native of the Dominican Republic.
Bido has made just two major league appearances, both starts against the Chicago Cubs. Chicago won both games, but Bido had a quality start his last time out, going six innings and allowing three runs on five hits with seven strikeouts.
Pittsburgh's lineup includes two rookies who were recent first-round picks: Nick Gonzales, who made his MLB debut at second base on Friday; and catcher Henry Davis, who has been playing right field since the Pirates called him up on Monday
Gonzales, who was the seventh overall pick out of New Mexico State in 2020, went 0-for-3 with two strikeouts on Friday.
"He was swinging the bat well (in the minors)," Shelton said of Gonzales, who had 14 doubles, five triples and six homers in 57 games with Triple-A Indianapolis this year. "We've been talking about when he might be ready.
"Right now, we have an opportunity to give him (MLB) at-bats."
Davis, the first overall pick out of Louisville in 2021, hit his first career homer on Thursday.
"Since the day we drafted him," Shelton said, "all (Davis) has been about is winning."
--Field Level Media