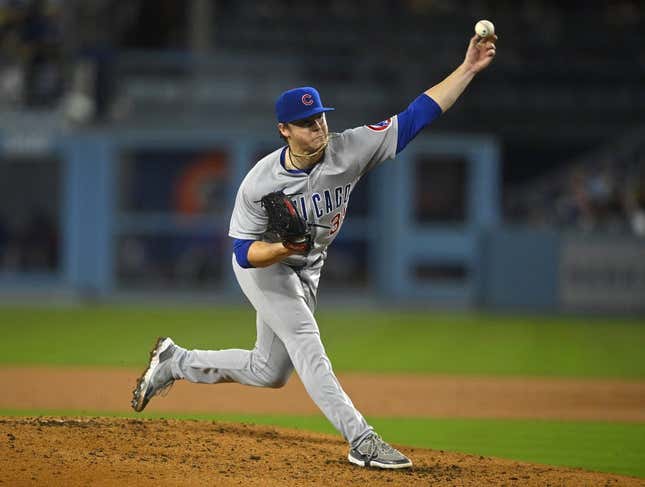 Left-hander Justin Steele looks to continue his brilliant month on Wednesday afternoon when he and the visiting Chicago Cubs end a week-long trip with the finale of a three-game series against the Oakland Athletics
'Soccer fandom is full of gatekeepers' says Ted Lasso actor Brendan Hunt
The Western swing already has been a rousing success for the Cubs, who were just 6-5 when they left Chicago last Thursday. Now they are up to 10-6 after winning four of five
Steele (2-0, 1.42 ERA) has allowed a total of just 10 hits and three runs in his first three starts, including throwing seven innings of three-hit, two-run ball in the Cubs' trip-opening, 8-2 win over the Los Angeles Dodgers on Friday
With Yan Gomes belting two home runs and teammates Ian Happ, Seiya Suzuki and Patrick Wisdom hitting one apiece, Steele received more-than-ample support for a second straight game after seeing six shutout innings go for naught in a 3-1 loss to the Milwaukee Brewers in his season debut.
The Cubs' offense came through in Steele's second start, a 10-3 win over the Texas Rangers, with Gomes and Wisdom again providing home runs
Gomes has caught each of Steele's past two starts, going 4-for-8 with three homers and four runs.
Gomes also caught the Cubs' 4-0 win over the A's on Tuesday, a game in which the visitors did all of their scoring in the eighth inning. Gomes contributed an RBI groundout to the uprising
If the veteran gets the call with Steele for a third consecutive time, he would be doing so in the spot he occupied 16 times after being acquired by the A's from the Washington Nationals in July 2021. He hit five of his 128 career homers during his 40-game stint with Oakland.
Steele has never faced the A's in his three-year career. No doubt, the third-year Cub, who takes a 10-11 career record to the hill Wednesday, is beaming with a career-high level of confidence after beating the Dodgers.
"It was just sticking to my strengths," Steele said. "I felt like I was commanding all my pitches, throwing what I wanted, when I wanted, whatever count."
Cubs fans outnumbered A's fans in the first two games of the series, but the split might be a lot more even in the series finale with Oakland having promoted one of its top prospects, right-hander Mason Miller, to make his major league debut
The 24-year-old made headlines in his most recent start for Triple-A Las Vegas, not only throwing five perfect innings, but striking out 11 of the 15 batters he faced.
Playing a trump card in an effort to end a six-game losing streak, A's manager Mark Kotsay said it would have been cruel to keep Miller in the minors for his next start and ask him to improve off a performance that was, by definition, perfect.
"When you have a start like that," Kotsay said, "you kinda announce, 'Hey, I'm here. I've performed.' I know it's one start at Triple-A, but it was a pretty dominant start. He's earned this opportunity."
Prior to his lone Triple-A start of the year, Miller made one start for Double-A Midland this season, and he gave up two runs on two hits in 3 2/3 innings. The Pittsburgh native and Gardner-Webb product was selected by Oakland in the third round of the 2021 draft.
--Field Level Media