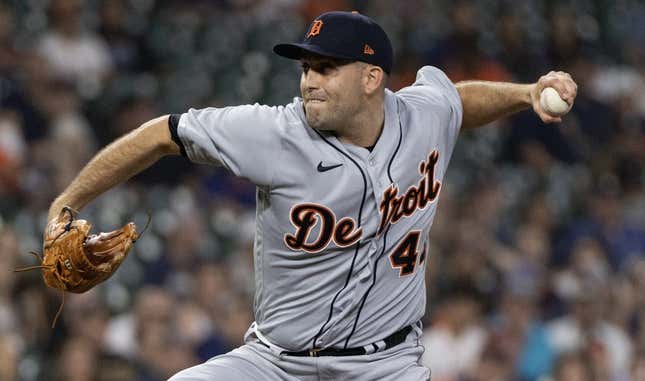 Matthew Boyd was a starting pitcher for the Detroit Tigers from 2015-21
After one season with the Seattle Mariners, he is back in the Tigers' rotation
The left-hander will make his first start at Detroit's Comerica Park since Aug. 29, 2021, on Sunday in the finale of a three-game series against the Boston Red Sox
Bass' ERA stinks, but not compared to who he is off the mound | Worst of the Week Countdown
Boyd, who is 0-0 with a 4.15 ERA this season, underwent surgery that September to repair the flexor tendon in his left arm. He signed with San Francisco as a free agent after the 2021 season but was traded to Seattle before his season debut. He made 10 relief appearances for the Mariners, going 2-0 with a 1.35 ERA in 13 1/3 innings.
He re-signed with Detroit during the offseason on a one-year, $10 million contract.
"We love Matt Boyd," manager A.J. Hinch said. "Even though he was only a year away, it felt like a long time since he had been back. This is a different team and different organization than it was when he was a Tiger previously."
The Tigers brought back Boyd to provide another veteran in the rotation. In his season debut, Boyd allowed two runs in 4 1/3 innings at Houston on Monday
"He's got real weapons," Hinch said. "He can get both sides (lefties and righties) out. The swing and miss in the spring was really good. He's another starter than we're trying to ramp into the season a tick slow to preserve the transition from his injury to the bullpen and back to the rotation. But I feel good the day he pitches."
Boyd is 2-2 with a 5.18 ERA in five career starts against Boston.
The Red Sox will counter on Sunday with right-hander Kutter Crawford (0-1, 15.75 ERA), who was battered in his season debut by Pittsburgh on Monday, giving up seven runs in four innings
"I thought it was pretty awful," Crawford said. "Physically I felt good, but just didn't command the ball like I need to. Didn't execute pitches when I needed to. ... Just not a good performance on my part."
Crawford has thrown only one-third of an inning in his career against the Tigers, giving up three runs and three hits
The Red Sox have won the first two games of this series, thanks to the big bats of Rafael Devers and Adam Duvall. Devers has three homers in the series, including a pair on Saturday in a 14-5 Boston romp. Devers hit his fifth career grand slam to highlight a six-run second inning, and Duvall added a pair of doubles in the game
Duvall is batting .483 with four homers and 14 RBIs this season.
"That's my job, just to slug and drive runners in," said Duvall, who signed a one-year, $7 million contract with Boston as a free agent during the offseason. "So it feels good to come in and do your job. We had some extra base hits today, and we've just got to keep the bats rolling."
Detroit started a left-hander, Joey Wentz, on Saturday, so Red Sox manager Alex Cora will use a similar lineup against Boyd for the series finale. He has Rob Refsnyder, who drove in two runs on Saturday, in the leadoff spot against lefties
"We've got to mix and match with lefties," Cora said. "We've got a lot of them coming up -- one tomorrow, three in Tampa and three more against the Angels. We've just got to find ways to mix and match, and it starts with Ref. You put Ref in the leadoff spot in front of those (sluggers) and he's going to do everything possible to get on base."
--Field Level Media