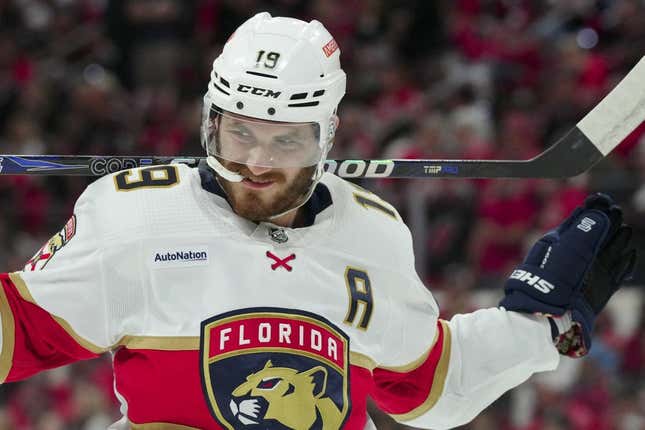 Matthew Tkachuk scored his second game-winning overtime goal in as many games as the Florida Panthers won 2-1 on his power-play conversion 1:51 into the extra session in Game 2 of the Eastern Conference finals Saturday night
Bass' ERA stinks, but not compared to who he is off the mound | Worst of the Week Countdown
Florida won its eighth consecutive road game to go up 2-0 in the series.
Aleksander Barkov scored for the Panthers. Sergei Bobrovsky made 37 saves
Jalen Chatfield had Carolina's goal during the team's impressive first period. Goalie Antti Raanta stopped 24 shots.
Game 3 is Monday night at Sunrise, Fla.
The Panthers went on a power play after Jesperi Kotkaniemi's hooking penalty. Sam Reinhart's pass set up Tkachuk for his seventh goal of the postseason
Both sides showed stretches of full-throttle energy just two nights after a four-overtime epic that became the sixth-longest game in NHL history. Florida won 3-2 in that one.
The Hurricanes switched goalies, using Raanta instead of Frederik Andersen in part because of the extended workload from Game 1. It was Raanta's first game action since April 25
Carolina put 20 shots on goal in the first period, but only 16 in the next two periods combined.
For two teams that went more than four full periods without a goal in Game 1, the scoring came rapidly early in the second game. Still, there were more goals overturned (2) than counted (1) in the first period.
Chatfield chipped in Sebastian Aho's pass 1:43 into the game for his first postseason goal.
Just 61 seconds later, the Panthers appeared to have a tying goal, but a coach's challenge resulted in a review and it was determined Florida was offsides
About a minute later, the Panthers went on a power play, but Carolina turned that into a 6-0 edge in shots during that two-minute stretch
That was part of what became a domination for the Hurricanes, who built a 17-1 advantage in shots across the opening 11 1/2 minutes
Then a potential 2-0 lead for Carolina was nixed when the Hurricanes had a Jack Drury goal waved off on review, also for offsides
The Hurricanes didn't produce a shot in the first 7 1/2 minutes of the second period, including a stretch that included a power play. Barkov then made a patient move in front of the net for the tying goal for Florida for his fourth tally of the postseason
--Field Level Media