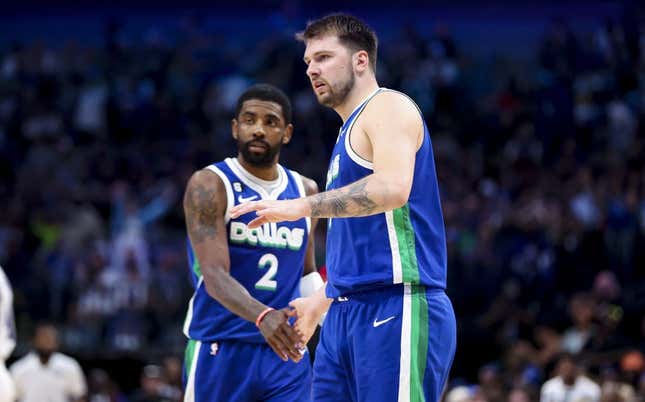 Keeping Luka Doncic happy rates ahead of bringing Kyrie Irving back, but Dallas Mavericks general manager Nico Harrison would like to do both this offseason
Are the Oakland A's a failed state? | Agree to Disagree
The Mavericks fell short of the playoffs with a dramatic fade in the standings that landed the team back in the draft lottery
A crossroads of sorts could be approaching the Mavericks and Doncic, but the 24-year-old All-Star said earlier this week he doesn't plan to demand a trade as was reported after the regular-season finale
Owner Mark Cuban helped plant the seed by stating his position on the matter Sunday night was that the Mavericks need to earn Doncic's trust with results on the court
Harrison finds himself on the hot seat after point guard Jalen Brunson took more money to leave for the New York Knicks in free agency last summer.
"I think our job really to keep Luka happy, if you will, is surrounding him by the right players to help him win," Harrison said. "And I think Luka's a talent that deserves that."
Doncic said during exit interviews, "I'm happy here."
To be determined is whether Irving can help Doncic and Dallas win. Injuries kept them from teaming up often in March and the Mavericks were 5-11 with both players available
But Doncic seems to be steadfast in his believe the tandem can work.
"It's a great fit," Doncic said Sunday. "Obviously, people are going to say no but ... look at the results we are having. But, like I said, chemistry and relationships take time. I wish he could still be here. He's a great player. He just wants peace, a great person."
Contentedness and Irving haven't blended for long stretches of his NBA career. The 31-year-old demanded a trade from the Nets to force his way out of Brooklyn in February, which cost Dallas a 2029 first-round pick, multiple second-round picks, Dorian Finney-Smith and Spencer Dinwiddie.
Irving spent six seasons with the Cleveland Cavaliers, who drafted him first overall in 2011, was traded to the Boston Celtics in 2017 and bolted for Brooklyn as a free agent in 2019.
Harrison said making the trade with the Nets was not a risk. "I actually see a risk in not doing it," he assessed at the deadline.
"The things that he said along the way about how he feels here, how he feels appreciated, how he feels ... accepted and allowed to be himself -- those are the things that he said kind of consistently. That's what gives me the optimism that he wants to be here," Harrison said Tuesday.
--Field Level Media