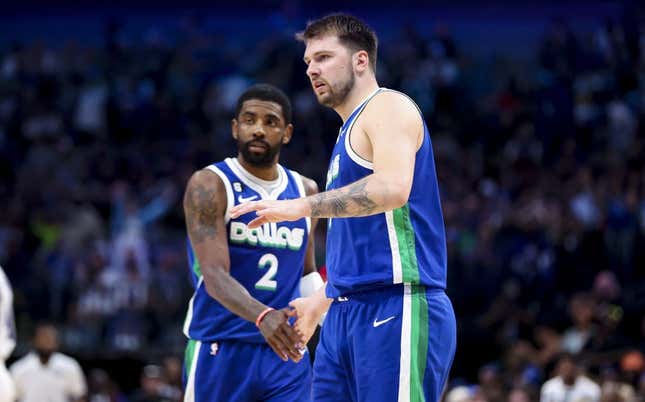 The Dallas Mavericks continue their push for the Western Conference's final play-in berth on Friday, visiting the Chicago Bulls, who have clinched a spot in the East's play-in tournament
'Soccer fandom is full of gatekeepers' says Ted Lasso actor Brendan Hunt
Chicago (38-42) clinched a place in the play-in round last week, but consecutive losses, Tuesday to Atlanta and Wednesday at Milwaukee, leaves the Bulls locked into the No. 10 seed
"I always believe if you have a chance, you have a way," the Bulls' DeMar DeRozan said. "We have a chance, so we have to make a way. Things are going to be exciting. Can't miss this opportunity, coming down to a one-game elimination
"I had a chance to play in one (for the San Antonio Spurs) when it first started. Everything about the game keeps you on edge. It's an opportunity for us to make the playoffs, so that's how we have to look at it."
Chicago will face either Atlanta or Toronto on the road to open the play-in tournament.
Dallas (38-42) clings to hope of qualifying for the play-in round in the West after snapping a three-game losing skid on Wednesday. The Mavericks beat one of the conference's leading contenders when they pinned a 123-119 defeat on the Sacramento Kings, behind 31 points from Kyrie Irving and 29 points with 10 rebounds from Luka Doncic
Dallas also got 24 points from Tim Hardaway Jr., marking the third time in four games that each of Doncic, Hardaway and Irving scored 20-plus points in the same contest.
The Mavericks will have a better sense of where they stand going into the final weekend after Thursday night's slate. Oklahoma City - which has the same record as Dallas, but holds the tiebreaker - plays Utah. Dallas could either be looking up at the Thunder or positioned to overtake them for the final play-in spot come Friday
"Everyone in that locker room believes we still have a chance until we're told otherwise," Mavericks coach Jason Kidd said. "You have to be a pro.
Dallas ends its season on Sunday against San Antonio, which sports one of the league's worst records. The favorable matchup in the finale puts Friday's contest against the Bulls at premium for the Mavericks' postseason aspirations
Chicago dominated when the two sides last faced each other, although it was a meeting on Dec. 10, long before the Mavericks roster underwent significant changes with the addition of Irving
Dallas played the 144-115 rout without Doncic. DeRozan went for 28 points and nine rebounds for the Bulls in the romp
DeRozan and Zach LaVine head into Friday's matchup averaging team-highs of 24.7 and 24.9 points per game, respectively. Center Nikola Vucevic is averaging a double-double a game at 17.7 points and 11.1 rebounds.
The Bulls bring a tough defense into Dallas, ranked seventh with a yield of 112.2 points. The Mavericks rank right in the middle of the league both in scoring offense (114.2 points), and scoring defense (113.8)
Dallas is tops in the NBA with just 11.1 3-point makes surrendered a game, although Chicago relies more heavily on interior scoring with 32.1 field-goals made from inside the 3-point line.
--Field Level Media