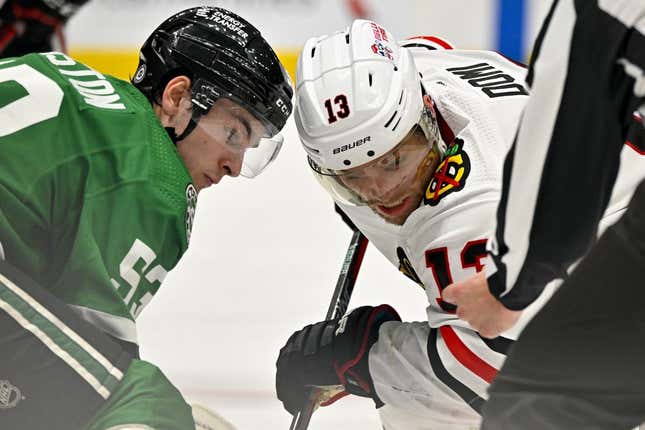 The NHL trade deadline passed Friday afternoon and now teams know what they have heading into the final month of the season.
That last month will be filled with key games that have a major impact on playoff positioning, including Saturday afternoon when the Dallas Stars host the Colorado Avalanche.
Dallas was active in the final 24 hours before the deadline, acquiring forward Max Domi and minor-league goaltender Dylan Wells from the Chicago Blackhawks on Thursday in exchange for goalie Anton Khudobin and a 2025 second-round pick.
Domi led Chicago in goals (18) and points (49) and will be a top-six forward on a team that has gotten two-thirds of its goals from six players. Domi has 18 points on the power play this year, which will help the Stars' eighth-ranked unit.
Dallas had been struggling since posting consecutive shutouts in mid-January, going 2-3-5, but now it has won three of its last four. The Stars are six points ahead of Colorado but have played three more games than their Central Division rival.
This will be the third of four meetings between the teams this year, with the Avalanche having won the first two. A win Saturday will give Colorado the season series and get it closer to first place in the division.
Dallas played on consecutive nights, which gave goalie Matt Murray a chance to make his NHL debut. He had 19 saves in a 5-2 win at Chicago.
"Good for him," Stars coach Peter DeBoer said. "He deserved the start, worked to get here, a great story. He wasn't a high draft pick or anything like that. You always like those stories. It's always nice to win your first game, and he made some saves, especially early in that game. He had to earn it."
Roope Hintz led the Stars' offense with a hat trick.
The Avalanche were quiet on the final day of the trade deadline, making just one minor trade that won't impact the current roster. Colorado made deals leading up to the deadline, trading for forward Denis Malgin in December, forward Matt Nieto in January and defenseman Jack Johnson last week.
Then on Wednesday, the Avalanche acquired Lars Eller from the Washington Capitals to add Stanley Cup championship experience and depth to the center position. Eller scored the deciding goal of Washington's 2018 Stanley Cup Final win over Vegas.
Colorado general manager Chris McFarland said after Friday's deadline passed that the organization explored possible deals but didn't make any big moves.
"We looked at all options, things that encompassed forwards, centers, defense," McFarland said. "We just weren't able to find a match today."
The Avalanche will add talent from within, though. Defenseman Cale Makar, who has missed nine of the last 10 games with two separate concussions, said Friday he's ready to return to the lineup, and captain Gabriel Landeskog is working his way back to possibly return before the end of the season.
Makar's return comes just as defenseman Josh Manson is back on the shelf with an injury suffered Wednesday night against New Jersey. Coach Jared Bednar said Friday Manson will miss some time with an injury related to the one to his lower body that caused him to miss 31 games earlier this year.
--Field Level Media