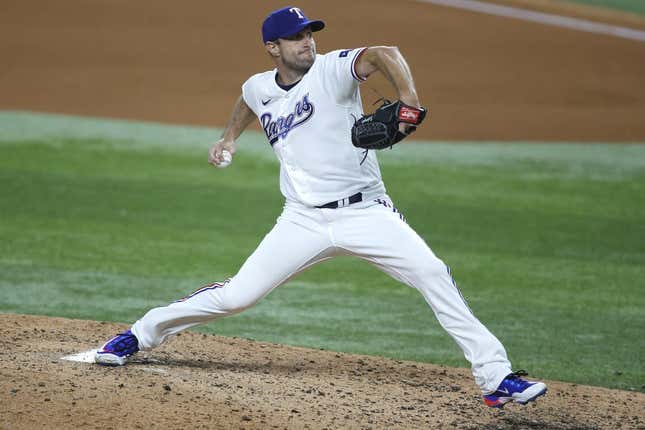 The Texas Rangers acquired Max Scherzer to pitch the biggest games in October.
But with the Rangers in danger of absorbing a rare sweep, Scherzer will take the mound with a hint of October urgency on Sunday afternoon when Texas hosts the Milwaukee Brewers in the finale of a three-game set in Arlington.
How running an NFL team is like running a restaurant | Chef Emeril Lagasse
Scherzer (12-4, 3.67 ERA) is slated to oppose the Brewers' Adrian Houser (4-4, 4.43 ERA) in a battle of right-handers and division leaders.
The Brewers locked up a series win Saturday afternoon when Freddy Peralta struck out 11 over 5 2/3 innings and Willy Adames had four hits — including a homer — in a 6-1 victory.
The loss was the third straight for the Rangers, who will take the field Sunday looking to avoid being swept for just the third time this season. The Cincinnati Reds took three straight from Texas from April 24-26 before the San Diego Padres did the same from July 28-30.
The Padres closed their sweep hours after the Rangers officially acquired Scherzer from the New York Mets. Texas then won its next eight games but is 4-5 since Aug. 9.
The Rangers scored four ninth-inning runs in Friday's 9-8 loss before being stymied Saturday by Peralta and a quartet of relievers, who combined on a four-hitter with 18 strikeouts — the most whiffs in a game for Texas since May 11, 2019.
"(Friday) we scored runs," Rangers manager Bruce Bochy said. "(Saturday) was just an off day for the offense throughout the lineup. You have to give credit where it's due sometimes. I do think that their guys were all on top of their game over there."
The four-hit game continued a resurgent weekend for Adames and the Brewers. Adames is 7-for-9 with three RBIs in the past two games after opening August by hitting .167 (8-for-48) with three RBIs in 13 games.
"It feels amazing," Adames said. "I've been working hard and making adjustments trying to get my confidence back. So I'm feeling better and hopefully I can continue to help this team win."
The Brewers will seek their second sweep of the month and their seventh of the season. Milwaukee took three in a row from the Chicago White Sox from Aug. 11-13 before being outscored 14-3 in losing three straight to the Los Angeles Dodgers prior to welcoming the Rangers to town.
Scherzer has won all three of his starts since Texas acquired him from the New York Mets. He allowed just one hit over seven scoreless innings and struck out a season-high 11 on Monday night, when Texas rolled to a 12-0 victory over the Los Angeles Angels.
Scherzer is 3-4 with a 2.66 ERA in 13 career games (12 starts) against the Brewers.
Houser took the loss on Tuesday after giving up four runs (three earned) over 5 1/3 innings as the Brewers fell to the Dodgers 6-2. He won his lone appearance against the Rangers on Aug. 10, 2019, when he gave up one run and struck out 10 in Milwaukee's 3-2 victory.
—Field Level Media