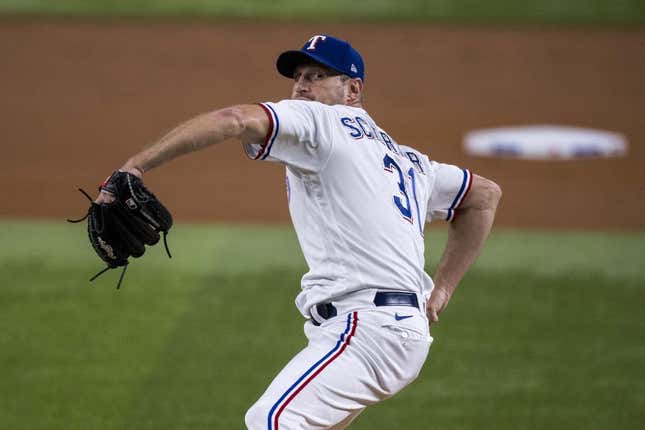 Texas Rangers right-hander Max Scherzer is 0-3 in his past five starts against the Blue Jays. Tuesday night in Toronto would be a good time for him to change that.
Is Texas or Florida State a bigger national title contender? | Agree to Disagree
The Rangers (79-64) pounded out a 10-4 victory over the Blue Jays (80-64) on Monday in the opener of an important four-game series.
The win moved the Rangers within a half-game of the Blue Jays in the race for the second American League wild card and pushed Texas a half-game ahead of the Seattle Mariners (79-65) for the third and final wild card. The Rangers are also two games behind the first-place Houston Astros (82-63) in the AL West.
The Rangers need one more win against the Blue Jays to clinch the season series, and the tiebreaker, between the teams.
Scherzer (12-6, 3.91 ERA) is scheduled to face Toronto left-hander Hyun Jin Ryu (3-2, 2.65) in the second game of the four-game series.
Scherzer is 4-3 with a 2.48 ERA in 11 career starts against the Blue Jays but has not beaten them since July 3, 2013.
Ryu is 1-1 with a 4.15 ERA in three career starts against Texas.
Toronto center fielder Kevin Kiermaier has three career hits in 11 at-bats against Scherzer.
"His resume is incredible, just everything he's accomplished," Kiermaier said. "But we come in here and it doesn't matter who's on the mound, we expect to win. We want to win, and we're going to prepare and do everything as normal. ... It's not like we get amped up for certain pitchers."
Kiermaier feels the key to facing Scherzer is in controlling the strike zone.
"You don't want (him) to be in the driver's seat," he said, "so you've got to be aggressive early."
Blue Jays outfielder Daulton Varsho added, "He just knows how to pitch. He makes you feel a little uncomfortable being able to spot up (in the zone). And he messes with your timing a little bit. The reason he gets paid a lot of money is because he's really good, so you just have to be able to focus in and be able to control (the zone) and go from there."
Scherzer is coming off a poor start against the Houston Astros on Wednesday. He allowed seven runs on six hits — including three home runs — in three innings during a 12-3 loss.
After the game, Scherzer told reporters that he was dealing with "an ailment" that affected him on the mound.
"I couldn't get all the way through the ball, couldn't explode through the ball," Scherzer said. "I can go out there and compete. I went out there against Minnesota last time kind of with a similar issue and was able to compete and locate. ... Today, I just didn't get it done and didn't locate the ball well enough."
On Monday, the Rangers got five RBIs from catcher Jonah Heim, who had a grand slam and a run-scoring double. The slam was his second of the season and the third of his career.
Texas left fielder Evan Carter hit a home run, the first of his major league career, and threw out Kiermaier at home. Heim made a superb tag at the plate as Kiermaier tried to score from second on George Springer's fifth-inning single to left.
Right-hander Dane Dunning pitched six-plus innings to end a 22-game drought without a win from a starting pitcher for the Rangers.
The Blue Jays entered the series after going 10-5 in a 15-game stretch against teams with below .500 records.
Toronto reinstated right-hander Erik Swanson (thoracic spine inflammation) from the injured list on Monday and optioned right-hander Jay Jackson to Triple-A Buffalo.
—Field Level Media