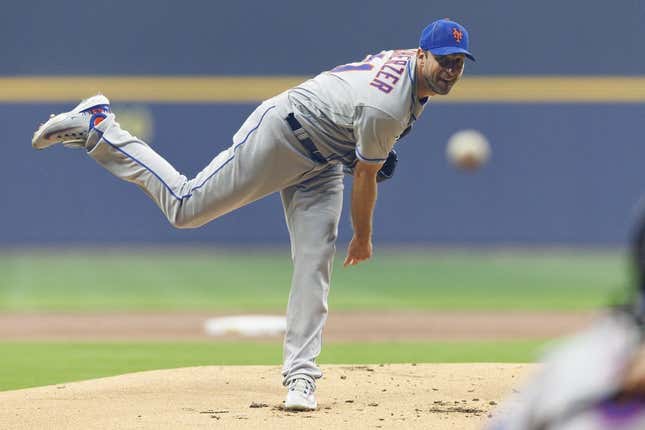 Veteran starting pitchers were struggling for the New York Mets the last time they opposed the San Diego Padres
Bass' ERA stinks, but not compared to who he is off the mound | Worst of the Week Countdown
Not much has changed over the last six months.
Max Scherzer will look to steady a struggling front end of the rotation for the Mets on Monday night, when the right-hander is slated to start for New York in the opener of a three-game series against the visiting Padres
Scherzer (1-1, 6.35 ERA) is scheduled to oppose fellow right-hander Yu Darvish (0-0, 1.80) in a rematch of the pitching matchup in Game 1 of last October's National League wild-card series.
The Mets missed a chance to complete a three-game sweep of the visiting Miami Marlins on Sunday afternoon, when Carlos Carrasco gave up six runs over 4 2/3 innings in New York's 7-2 loss
Nelson Cruz homered, doubled and finished with six RBIs Sunday night for the Padres, who closed out a four-game series win over the host Atlanta Braves with a 10-2 rout
Carrasco's second straight subpar start continued a troublesome trend for the Mets' veteran starters -- a group that doesn't include three-time Cy Young Award winner Justin Verlander, who has yet to pitch this season due to a teres strain in his right shoulder
While 30-year-old rookie Kodai Senga and third-year right-hander Tylor Megill are a combined 4-0 with a 1.61 ERA, the trio of the 36-year-old Carrasco, the 38-year old Scherzer and fourth-year veteran David Peterson are 1-4 with a 7.76 ERA.
"I've just got to pitch better -- that's it," Scherzer said after he gave up five runs in 5 1/3 innings in a 9-0 loss to the Milwaukee Brewers on Tuesday. "There's no other quote. There's no other way to do it. Be accountable for what you are and get the outs when you need to get outs."
Scherzer will be pitching at Citi Field for the first time since Oct. 7, when he took the loss after surrendering seven runs over 4 2/3 innings as the Mets fell 7-1 to Darvish and the Padres. Jacob deGrom, making his final appearance with New York, extended the season the next night by allowing two runs over six innings in a 7-3 win, but Chris Bassitt allowed three runs over four innings as the Padres won the decisive third game 6-0
The Padres, who advanced to the NL Championship Series last October before falling to the Philadelphia Phillies, gave up 35 runs while losing four of their first seven games before outscoring the Braves 19-7 in the final three games of the series
San Diego set season highs for runs scored and margin of victory on Sunday, when Seth Lugo allowed one run over six strong innings one day after Michael Wacha twirled six scoreless frames.
"We haven't had, I don't think, any (games) like this this year -- every one's been kind of a dogfight," Padres manager Bob Melvin said. "To be able to put a little distance -- we have the ability to score a bunch of runs (and) at times get these type of games. It was nice to finally get one.
Darvish didn't factor into the decision in his season debut on Tuesday, when he gave up one run over five innings as the Padres lost to the Arizona Diamondbacks 8-6
Counting his start last Oct. 7 -- when he gave up one run in seven innings -- Darvish is 6-0 with a 2.41 ERA in nine starts against the Mets. Scherzer is 6-4 with a 3.32 ERA in 17 regular-season starts and the playoff appearance against the Padres
--Field Level Media