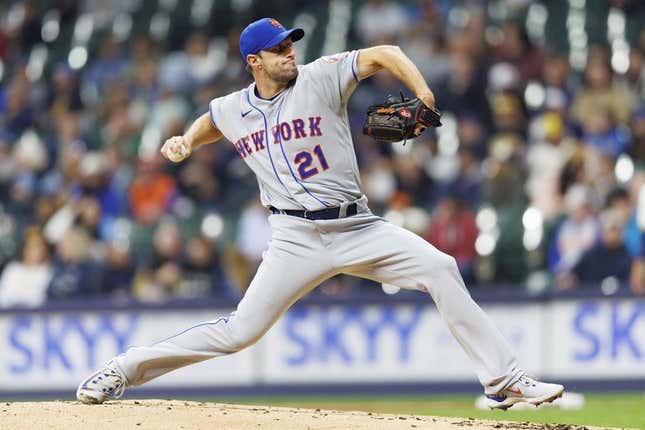 The faces will be completely familiar on Wednesday afternoon, it is just the uniforms that will look out of place.
Bass' ERA stinks, but not compared to who he is off the mound | Worst of the Week Countdown
While the New York Mets will send right-hander Max Scherzer to the mound in a rare midweek day game at Los Angeles, the Dodgers will counter with right-hander Noah Syndergaard in the finale of a three-game series
In 2021, the Dodgers acquired Scherzer for the stretch drive and what was expected to be a long playoff run. His short but memorable Dodgers tenure ended when he pulled out of a scheduled Game 6 start in the National League Championship Series against the Atlanta Braves, citing arm fatigue, and Los Angeles was eliminated
Since the sides parted ways, some salvos were lobbed back and forth, with Scherzer (2-1, 4.41 ERA) moving Monday to clarify his stance on the matter.
A Los Angeles Times story this week revealed that some of Scherzer's former Dodgers teammates, who went unnamed, still harbor disappointment over Scherzer refusing to pitch in what eventually became the team's final game of a season that fizzled amid high hopes
"That was one of the best teams I've ever been on," Scherzer told the Los Angeles Times. "Unfortunately, just given how the rest of that season ended, how it unfolded is how it unfolded. It left a sour taste in everyone's mouth. I get it."
Now comes a somewhat tense reunion Wednesday. In 16 career appearances against the Dodgers (14 starts), Scherzer is 5-5 with a 2.59 ERA. And in 14 career starts at Dodger Stadium, he is 7-3 with a 2.63 ERA
Syndergaard (0-2, 5.63 ERA) had a much longer run with the Mets, when he emerged as one of the top young pitchers and hard throwers in the game. He finished fourth in NL Rookie of the Year voting in 2015, was an All-Star a year later when he won 14 games and went 47-31 with a 3.32 ERA over six seasons in New York
However, Tommy John surgery and a setback in his rehab process cost him nearly two full years. Still trying to regain his form, Syndergaard (0-2, 5.63 ERA) continues to search for his top velocity with the Dodgers
He gave up six runs over four innings in an April 8 loss to the Arizona Diamondbacks, and although he was better on Friday against the Chicago Cubs, he took another loss while yielding three runs in six innings.
Most concerning in his outing against the Cubs was a fastball that averaged 91.0 mph, which was down nearly 2 mph from what he had been throwing earlier this season, and well below his 100 mph heyday with the Mets
"I threw quite a bit (between starts), so it might have been a little bit of that, so we'll probably just manage the intensity for my next start," said Syndergaard, who continues to work on his pitch mechanics. "I'm not really focused on velocity during the game. I'm just going out there and trying to execute my pitches and get the other team out."
Wednesday's outing will be Syndergaard's first-ever outing against the Mets. And while he might not be left-handed, Syndergaard might want to watch how veteran Clayton Kershaw handled New York on Tuesday when he gave up just three singles in seven scoreless innings
The Dodgers' 5-0 victory over the Mets, backed by two J.D. Martinez home runs, was Los Angeles' first shutout of the season. The defeat ended New York's season-best, five-game winning streak
--Field Level Media