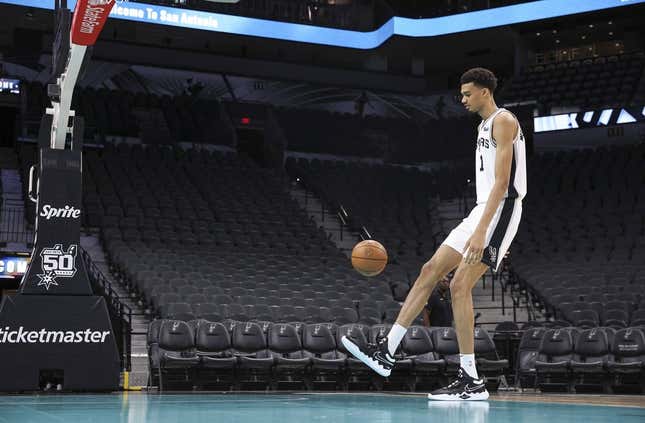 Expected to hit the heights as an NBA player, Victor Wembanyama entered the league with only one question mark: How tall is he?
How running an NFL team is like running a restaurant | Chef Emeril Lagasse
Sources listed him anywhere from 7-foot-2 to 7-foot-5 before the San Antonio Spurs selected him with the No. 1 overall draft pick on June 22
The mystery ended on Wednesday when the Spurs stated that they measured the 19-year-old Frenchman without shoes, per NBA standards, and learned that he is 7-3 1/2
That makes the incoming rookie the second-tallest active player in the NBA, behind Houston Rockets center Boban Marjanovic, who is 7-4. Boston Celtics forward Kristaps Porzingis is next among active players at 7-3.
The list of tallest-ever players to compete in the league starts with Manute Bol and Gheorghe Muresan, both 7-7; then Yao Ming, Shawn Bradley, Slavko Vranes and Tacko Fall, all 7-6. Chuck Nevitt, Pavel Podkolzin and Sim Bhullar were all listed at 7-5.
Wembanyama is due to face NBA competition for the first time as part of the Spurs' Las Vegas summer league team when they face a team of Charlotte Hornets prospects on July 7
--Field Level Media