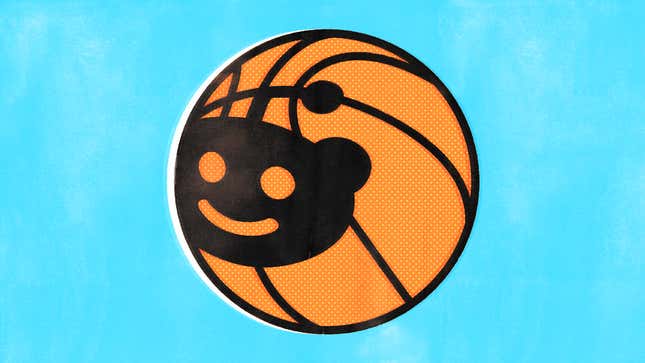 On July 24, NBA scoopmaster Adrian Wojnarowski tweeted that Kevin Love had signed an extension with the Cleveland Cavaliers. As is often the case, Wojnarowski was the first person on Twitter to report the news. But in the wider realm of the NBA internet, Wojnarowski's tweet was stale. The week before, someone on Reddit had tipped off the /r/clevelandcavs subreddit about Love's forthcoming extension. The same Redditor followed that up by posting the specific details of Love's extension to /r/nba and /r/clevelandcavs a day before Wojnarowski's tweet. The king of scoops himself had been bested by an anonymous civilian.
Is Texas or Florida State a bigger national title contender? | Agree to Disagree
It wasn't the first time that a Woj-bomb had been defused by this Redditor. A similar thing happened when the Philadelphia 76ers extended Joel Embiid, and again when the Milwaukee Bucks hired Mike Budenholzer as their new head coach, and once more when Marcus Smart signed his extension with the Boston Celtics. In each case the Redditor, whose username is SEAinLA, had the news before anyone else. Suddenly, the source for NBA breaking news had widened beyond the Twitter feeds belonging to professional reporters like Adrian Wojnarowski and Shams Charania.
After SEAinLA broke the Kevin Love news, other Redditors started to debate his identity. Some joked that SEAinLA was Wojnarowski himself. Others were convinced that SEAinLA, a frequent poster in the Seattle Seahawks subreddit, was ESPN The Magazine senior writer Mina Kimes. None were certain, but everyone agreed that SEAinLA's sources were legit. The moderators of /r/nba, who have historically been quick to remove any post claiming to break news, had to make an exception for SEAinLA. They decided that he had proven himself credible, and would be allowed to continue posting scoops. SEAinLA had become the first legitimate NBA insider native to Reddit.
Still, questions remained: Who was SEAinLA? How did he get his information? Why was he sharing it with Reddit and what was in it for him? Those are the questions I aimed to answer when I reached out SEAinLA.

---
"This is pure escapism for me," SEAinLA told me. SEAinLA isn't an agent or a media member and he doesn't work for an NBA team. He's just a basketball junkie with friends in high places, and agreed to talk under the condition of anonymity in order to keep his online life separated from his personal life, where he works as an attorney in California. "My work is in no way connected to the sports industry at all," he explained. "I just go way back (multiple decades in some cases) with certain friends who ended up working and rising in various corners of the industry."
SEAinLA, who is in his early 30s, said that he talks with his friends in the industry about sports on a daily basis and occasionally they share inside information with him. For instance, before the public knew that Kyrie Irving was going to be traded to Boston last summer, SEAinLA received a text about the impending trade a day-and-a-half before it was announced.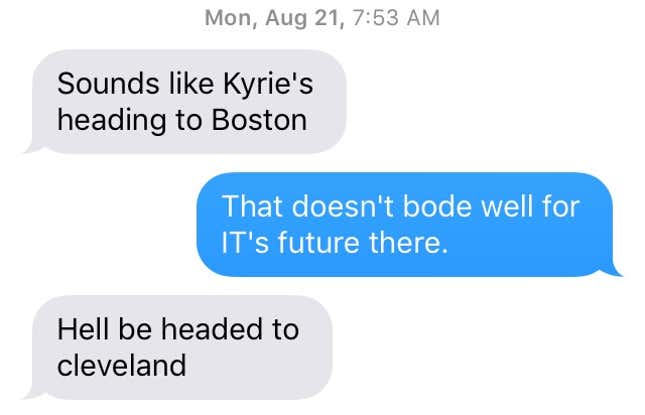 SEAinLA won't post scoops to Reddit without his friends' permission, and only if they're certain the information is correct. All of his posts have turned out to be accurate thus far.
The decision to remain anonymous stands in contrast to the giants of NBA Twitter, where scoops can serve as a signifier for how connected or influential a person is. SEAinLA doesn't have a Twitter account that he uses regularly, though a false account was created in his name recently. When asked why he decided to share such valuable information with Reddit, SEAinLA replied by saying that it was his way of giving back to the community he's gotten so much enjoyment from. "NBA Reddit has presented me with such a great forum for engaging in debate," SEAinLA said. "Sure, it can be a little too heavy on the memes at times, but at its core it brings together a group of people who are super passionate about the league."
SEAinLA went on to say that he posted exclusively to Reddit in order to reach the highest concentration of people who care about these kinds of stories. Gossip, free agency or otherwise, is one of the biggest conversation starters on /r/nba. On February 8, 2018, the day of the trade deadline, more than 100,000 comments were made on the NBA subreddit. There were more comments that day than any other day outside of the NBA Finals and Game 7 of the conference finals.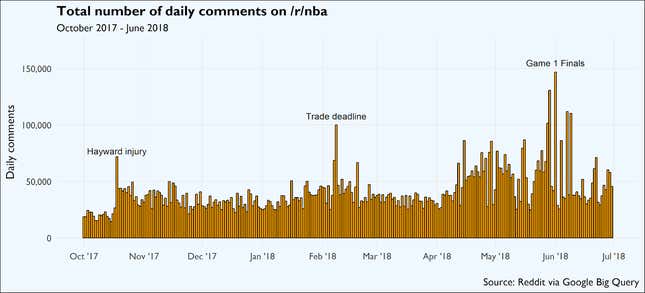 Although SEAinLA enjoys the discussion that his scoops create, he does not feel pressure to post more often. And while he recognizes there's probably an opportunity for him to make money off his inside information, he said it's his personal policy not to bet on sports. "Even if I think I know something is 100 percent likely to happen, I don't want to risk money on second- or third-hand info being wrong," he said.
SEAinLA couldn't say if he obtains information from his sources before Wojnarowski does, but recognizes that he can report things sooner than anyone else since the consequences for mistakes are different from that of a professional journalist. "The difference between me and them is that their livelihood is at stake," SEAinLA said.
SEAinLA may not be a real threat to established NBA journalists, but his uncompromising methods are a boon for NBA-obsessed fans who are constantly seeking inside information. This is an era in which members of the NBA media are extremely hesitant to report things they know to be true, and it's nice to have someone out there who is willing to do what the pros so often won't: tell us what he knows.