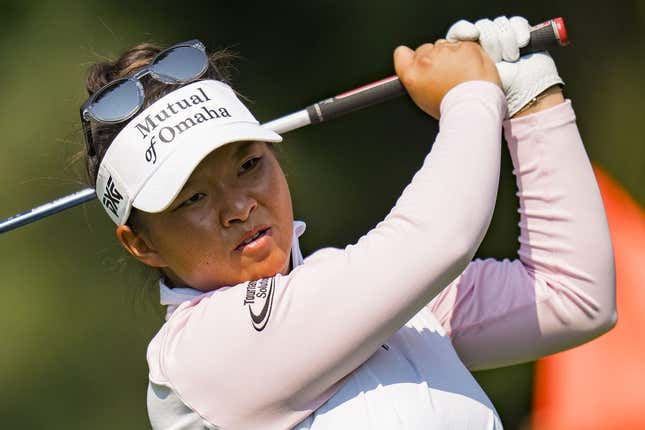 Megan Khang used a birdie on the 18th hole to force a playoff on Sunday, then won the CPKC Women's Open on the first extra hole to just get past South Korea's Jin Young Ko at Vancouver.
How running an NFL team is like running a restaurant | Chef Emeril Lagasse
Khang had a one-shot lead after two rounds and started the final round with a three-shot advantage, but she struggled to a 2-over-par 74 on Sunday. But it was just enough to stay even with Ko and finish off her first career victory in eight years at Shaughnessy Golf and Country Club.
Khang and Ko were tied at 9-under 279 heading into the playoff.
"Out there, seemed like a struggle out there for me," Khang said about career on the Golf Channel broadcast. "I've been hitting the ball so good this week and then couple missed fairways, couple punch outs, couple early bogeys, and you look at the leaderboard and you are wondering when you're going to get it going."
Khang had bogeys at the third and sixth holes to fall to 9 under for the tournament. Another bogey at No. 10 dropped her to 8 under, but she had birdies on three of her last eight holes, including consecutive birdies at Nos. 11 and 12.
Ko started the day at 6 under but roared into contention by going 2 under on the front nine. She had a bogey at No. 11 but took the lead with birdies at Nos. 14 and 16, only to watch Khang tie her late.
"Well, I didn't expect I would play in the playoff, because (I was) five shot behind Megan, but I know if I got lots of birdies it would be chance to win," Ko said.
Ruoning Yin of China finished two shots behind the leaders at 7 under with a red-hot 6-under 66 on Sunday for the best round of anybody in the field. A tie for fourth place at 6 under included Australia's Hannah Green and South Korea's Sei Young Kim.
Khang was the first American to win the CPKC Women's Open since Brittany Lincicome earned the trophy in 2011. She passed $1 million in season earnings with the victory that came in her 191st career LPGA start.
"I know my game is kind of trending and it's kind of matured over the past few years, and so I kind of was more so like it's going to happen; it's just a matter of time," said Khang, a native of Brockton, Mass. "Just happened to be at the CPKC Open. ... This course suited my game very well and I'm just pumped to finally get the first one."
—Field Level Media