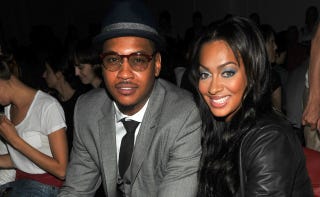 This is really the only comeback necessary.
Celtics benchwarmer Jordan Crawford was caught yelling at Carmelo Anthony during a post-buzzer scrum. It didn't take a lipreader to make out the words: "That motherfucker fucked your wife," "that motherfucker" being Kevin Garnett, a reference to KG's earlier General Mills-sponsored claim about Mrs. Anthony, the former La La Vazquez.
In the locker room, Carmelo told writers not to waste their words on Crawford. This afternoon, La La chipped in on her Instagram account, posting a pseudoinsprational quote. (From "@phuckyoquote," presumably a modern-day Bartlett's.)
But what really stands out is her caption:
Try again. You on the bench for a reason.
It's a power move. It's why Jordan Crawford will never win a beef. His opponent will always counter with "you're Jordan Crawford."
UPDATE: Crawford denies the whole thing.
Vine by @seedutton