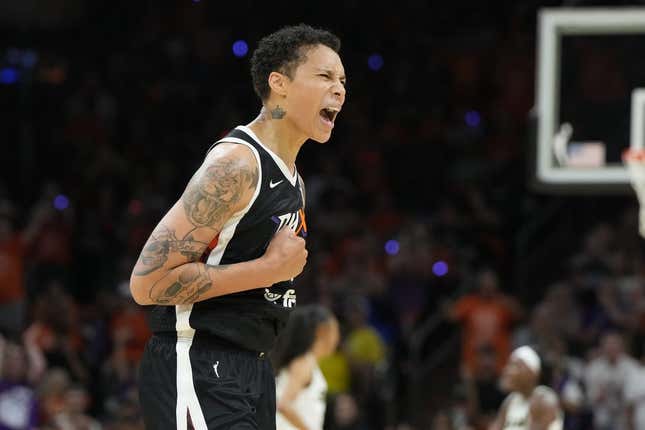 Back-to-back wins have the Phoenix Mercury believing their season is about to turn in a positive direction
How running an NFL team is like running a restaurant | Chef Emeril Lagasse
Sunday's game at the Washington Mystics might provide a better clue. Phoenix (6-15) is just 1-9 on the road, with its only away win at Indiana -- another team struggling for traction at the halfway point of the WNBA season
For now, the Mercury are on the right track. Thursday night's 80-62 rout of the Chicago Sky -- highlighted by 45 points off the bench -- did nothing to dissuade them from that belief
"Everyone wanted it to just click right out of the gates but unfortunately that's not life," Phoenix center Brittney Griner said. "So, I think we did a really good job as a team working on different ways teams are going to double, coming in low side or high side, on the dribble, on the catch and which way we want to move."
Shey Peddy led the bench explosion against Chicago with a game-high 20 points, highlighted by a career-best five 3-pointers. And the Mercury limited the Sky to 34.2 percent field goal shooting, including a 2-for-21 showing from the 3-point line (9.5 percent)
Meanwhile, Washington (11-10) dropped a 96-87 home decision to the New York Liberty on Friday night for its fifth defeat in seven games. The Mystics have a legitimate excuse. They played again without All-Star Elena Delle Donne (ankle), Ariel Atkins (ankle) and Shakira Austin (hip), who combine to average 42.1 points per game
But even without those three starters, Washington coach Eric Thibault wasn't happy with the team's defense. The star-laden Liberty canned 47.3 percent of their shots from the field -- including 11 of 31 attempts from 3-point range -- and earned a 48-28 advantage on the boards.
"I feel like we've talked about our injuries every day -- and yeah, you can't replace those people," Thibault said. "But we can still be better than we are defensively right now."
Washington rolled to an 88-69 win over Phoenix on June 16 at home in the teams' only meeting this season.
--Field Level Media