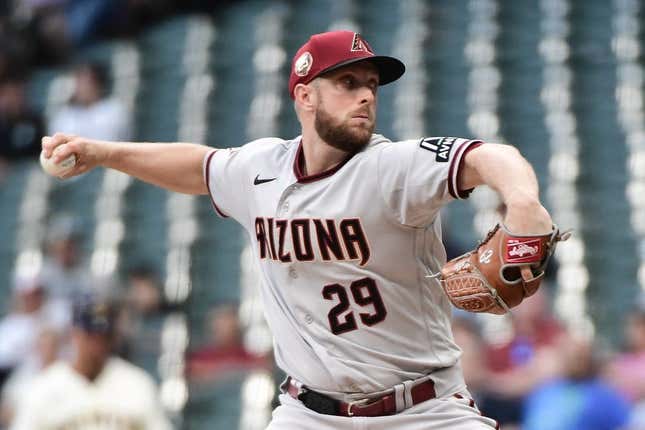 The pitching advantage shifts to the visiting Arizona Diamondbacks when they seek to even their series against the San Francisco Giants in a Saturday afternoon affair
How running an NFL team is like running a restaurant | Chef Emeril Lagasse
Right-hander Merrill Kelly (9-3, 2.90 ERA) will look for a National League-leading 10th win as he attempts to derail a surging Giants club that has won 11 of its last 12 games
San Francisco is expected to go the opener route after taking the opener of the three-game series 8-5 on Friday.
Kelly will be making his 17th career start against the Giants, against whom he is 6-4 with a 3.19 ERA
The 34-year-old veteran is unbeaten in his last 10 starts, going 8-0 with a 2.69 ERA in that span. He allowed just three hits in each of his past two outings, against the Philadelphia Phillies on June 14 and the Milwaukee Brewers on Monday, striking out a total of 14 in 13 innings.
He will be facing a Giants team that got multiple-hit performances from four players on Friday. Michael Conforto led the way with three hits, including a pair of two-run doubles that accounted for half the team's scoring
San Francisco's biggest hit of the win came in an unusual situation in the fifth inning. Manager Gabe Kapler gave rookie Patrick Bailey the go-ahead on a 3-0 count, and the prized prospect responded by launching a two-run homer that turned a 6-4 game into a four-run advantage.
It was the first time Bailey put a ball in play on a 3-0 pitch this season. The Giants are now 7-for-8 with a double and three homers on 3-0 counts this year, with Brandon Crawford and Wilmer Flores having produced the earlier home runs
"He's pretty smart. He knows what pitchers are trying to do to him," Kapler said of Bailey, 24. "For young hitters, it's not that easy to pull the trigger (on 3-0 pitches). It's not that easy to put a confident swing on the ball."
The Giants' probable starter is Ryan Walker (2-0, 1.56 ERA) in an opener role. The right-hander allowed just one run in a total of 2 2/3 innings as the starter in wins over the San Diego Padres on Monday and Wednesday
The starts were the first of Walker's rookie season as he has successfully stepped in for opener specialist John Brebbia, who kicked off five wins in eight starts before going on the injured list last weekend.
The Giants are currently using openers to fill voids left by injuries to Alex Cobb and Ross Stripling
Arizona rookie Corbin Carroll had two hits in the Friday loss, raising his average to .301 a day after learning he had qualified to be among four finalists in balloting for two starting outfield spots still available on the National League All-Star team.
Carroll also stole his 23rd base of the season Friday. The Diamondbacks rank third in the NL in steals (76), trailing only the Cincinnati Reds (82) and the Pittsburgh Pirates (77)
"We're capable of doing a lot of different things, but our team speed is at the head of the class," Diamondbacks manager Torey Lovullo said. "We can exploit some things, and it makes a big difference.
--Field Level Media