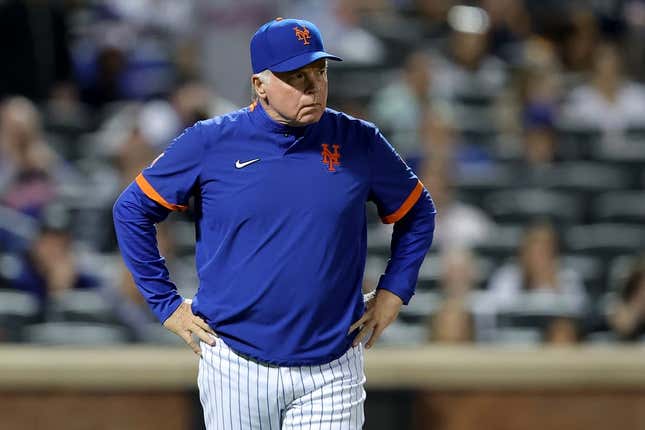 New York Mets manager Buck Showalter understands much of the attention following his team's Tuesday loss to the San Diego Padres will be on the last at-bat of the game, when highly touted rookie Francisco Alvarez struck out as the potential winning run
Bass' ERA stinks, but not compared to who he is off the mound | Worst of the Week Countdown
But Showalter also knows the Mets squandered numerous other opportunities long before Alvarez stepped to the plate against Josh Hader
The Mets will look to solve their situational-hitting woes Wednesday afternoon when they host the Padres in the finale of a three-game series
New York right-hander Tylor Megill (2-0, 1.64 ERA) is slated to start against left-hander Blake Snell (0-1, 7.88).
The Mets stranded seven baserunners Tuesday -- including five in the final three innings -- as the Padres held on for a 4-2 victory
San Diego's Xander Bogaerts hit what proved to be a pivotal two-run homer in the top of the ninth before the Mets mounted their final comeback attempt
Pete Alonso drew a leadoff walk, Mark Canha struck out and Jeff McNeil worked another walk. Tommy Pham followed with an RBI single before Hader retired pinch hitter Tomas Nido on a well-struck comebacker and whiffed Alvarez on a 3-2 pitch.
Alvarez's early struggles -- he is 3-for-20 with nine strikeouts in seven big-league games dating back to the final week of last season -- are noteworthy, but he is not alone in struggling for a Mets club hitting .222 (39-for-176) with runners on base this year
The Mets loaded the bases with no outs in the first inning on Tuesday against Ryan Weathers, who escaped the jam by striking out Alonso and getting Canha to hit into a double play
"We needed five runs tonight -- we weren't able to get them," Showalter said, "There were some at-bats that fell to people other than Francisco Alvarez, so that's a real tribute to their pitching."
Weathers has been one of the pitchers helping to steady the Padres' rotation over past week and a half. A San Diego starter has allowed two runs or fewer in six of the past nine games, a span in which the club went 6-3
Weathers, Michael Wacha, Seth Lugo and Yu Darvish have combined to post a 2.70 ERA over 23 1/3 innings in the past four games as the Padres have locked up a winning record on a seven-game road trip against the Atlanta Braves and the Mets, each of whom won 101 games last season
San Diego is 4-2 on the trip heading into the finale on Tuesday.
"Those are two teams that were in the playoffs last year and -- who knows? -- they're projected to be in there again," Bogaerts said. "So it's been a really good road trip. (Wednesday) we've got one more game to go -- a big one."
Megill earned the win in the Mets' home opener last Friday, when he tossed six scoreless innings as New York beat the Miami Marlins 9-3. Snell didn't factor into the decision last Thursday when he allowed four runs over 3 2/3 innings in the Padres' 7-6 loss to the Braves
Megill has never opposed the Padres. Snell is 3-3 with a 2.73 ERA in six career starts against the Mets
--Field Level Media