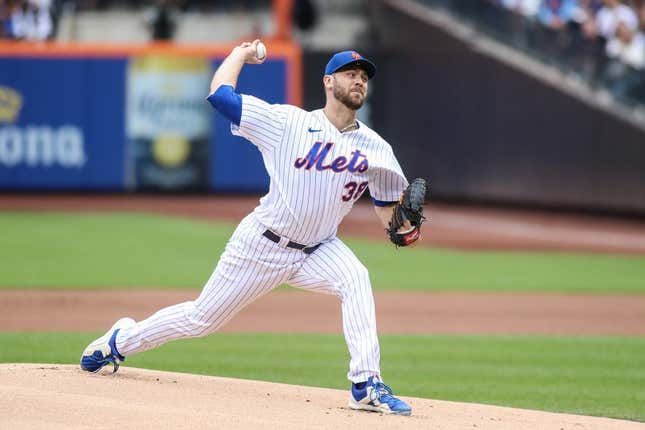 The New York Mets' reward for playing 10 innings Wednesday night was the type of victory that could provide the jolt required to turn around their disappointing season
How running an NFL team is like running a restaurant | Chef Emeril Lagasse
All the St. Louis Cardinals got for their extra inning Wednesday was more evidence they might not be able to avoid the franchise's worst season in a century
The Mets will try to win consecutive games for the first time in two weeks and the Cardinals will aim to snap out of their skid Friday night when New York hosts St. Louis in the opener of a three-game series between the sub-.500 clubs
Tylor Megill (5-4, 5.14 ERA) is slated to start for the Mets against Miles Mikolas (4-3, 4.02) in a battle of right-handers
Both teams were off Thursday after their eventful 10-inning games. Brandon Nimmo delivered the walk-off RBI double for the Mets, who overcame a two-run deficit to edge the visiting New York Yankees 4-3. The host Cardinals suffered their fifth straight loss when they squandered a two-run ninth-inning lead and fell to the San Francisco Giants, 8-5
The Mets' win was just the second in their last 11 games, and they've fallen into fourth place in the National League East and four games behind the Giants, who occupy the third and final wild-card spot
The Mets appeared destined for another discouraging loss in the seventh inning Wednesday, when they committed two errors and Yankees utilityman Isiah Kiner-Falafa pulled off a straight steal of home to extend the visitors' lead to 3-1
The Mets scored twice in the bottom of the inning, but after Starling Marte delivered the game-tying RBI single, Nimmo was thrown out trying to get back to second base because Mark Vientos was held up at third base
"When you win, you can look back and say 'OK, we'll learn from (mistakes)," Nimmo said. "When you lose, it's not really thought of that way. And so everything's better when you win."
The Cardinals thought they were on the verge of receiving such a reminder Wednesday, but closer Giovanny Gallegos gave up a two-out, two-strike, two-run homer to Mike Yastrzemski and the Giants scored three runs via a trio of singles in the 10th to hand St. Louis its 10th loss in 12 games this month
St. Louis, which hasn't suffered a losing season since 2007 and has made the playoffs in 10 of the last 14 seasons, entered Thursday with the worst record in the NL and on pace to lose 99 games.
The Cardinals have not finished in last place in their division since 1990, when they endured their most recent 90-loss season, and have not finished with the worst record in the NL since going 51-78 in 1918. St. Louis hasn't lost 95 games since going 51-99 in 1913
"Listen, expectations are high here and that's why I came here and I love that," said third baseman Nolan Arenado, in his third season with the team following a trade from the Colorado Rockies. "But I don't know. We've played three-and-a-half months of bad baseball. I don't know what to say."
Megill took the loss on June 9, when he gave up nine runs (seven earned) over 3 2/3 innings as the Mets fell to the Pittsburgh Pirates 14-7. Megill lost his lone start against the Cardinals on Sept. 15, 2021, when he allowed six runs over three innings in St. Louis' 11-4 win
Mikolas absorbed the defeat last Saturday after surrendering five runs over six innings in the Cardinals' 8-4 loss to the Cincinnati Reds. Mikolas is 1-1 with a 1.64 ERA in four games (three starts) against the Mets
--Field Level Media