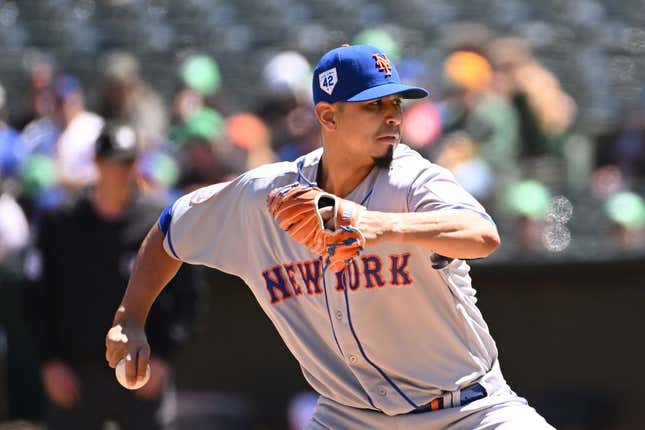 Who are the real New York Mets -- the team whose last two series wins came against the two teams that enter Friday with two of the four best records in baseball, or the team that failed to win seven series in between against six teams, all but one of which is under .500
'Soccer fandom is full of gatekeepers' says Ted Lasso actor Brendan Hunt
The Mets will look to begin answering that question Friday night when they host the Cleveland Guardians in the opener of a three-game interleague series
Mets right-hander Carlos Carrasco (0-2, 8.56 ERA), who spent the first 12 years of his career with Cleveland, is expected to come off the injured list to pitch against his former team for the first time. Fellow right-hander Cal Quantrill (2-2, 3.97) is scheduled to start for the Guardians
Both teams earned wins Thursday afternoon. Tommy Pham delivered the tiebreaking hit in the sixth inning for the host Mets, who finally earned their first series win in a month by edging the major league-leading Tampa Bay Rays 3-2
Gabriel Arias homered and doubled for the visiting Guardians, who avoided being swept by the Chicago White Sox by earning a 3-1 victory in the finale of a three-game set
The Mets capped a potentially season-turning 18-hour span with their win. They were one out away from losing in the ninth inning on Wednesday before Francisco Alvarez tied the score with a three-run homer. Pete Alonso hit a walk-off, three-run homer in the 10th to lift New York to an 8-7 win
Alonso homered again on Thursday, when the Mets won a series for the first time since they took two of three from the National League West-leading Los Angeles Dodgers from April 17-19. In between, New York went 8-15 against six teams -- the NL East-leading Atlanta Braves as well as the San Francisco Giants, Washington Nationals, Detroit Tigers, Colorado Rockies and Cincinnati Reds -- that will enter Friday a combined 14 games under .500
"We know we're talented -- our talent has been here the entire year, it's just a matter of performing," Alonso said of the Mets, who are 22-23 after going 101-61 last season. "And this performance against a high-quality opponent is a good sign for us.
The Guardians also hope their Thursday win can serve as a springboard for a team struggling to build on last season's success. Cleveland, which finished 92-70 in 2022, has lost seven of its last nine series, a span in which it has scored four runs or fewer 23 times in 27 games
The Guardians again struggled to generate offense on Thursday, but they received boosts from unexpected sources. Arias homered in the fifth inning for Cleveland's first run and finished 2-for-4 to raise his average to .190
Rookie Brayan Rocchio collected his first career RBI when Will Brennan scored as Chicago shortstop Tim Anderson misplayed Rocchio's seventh-inning grounder. Cam Gallagher then ended an 0-for-34 stretch with a run-scoring single.
"We're looking for reasons to be optimistic," Guardians manager Terry Francona said. "(Thursday) was fun to watch.
Carrasco, who was traded with Francisco Lindor to the Mets in a blockbuster that sent infielders Andres Gimenez and Amed Rosario to Cleveland in January 2021, hasn't pitched for New York since April 15 due to right elbow inflammation. He posted a 1.29 ERA in two rehab starts for Double-A Binghamton
Quantrill didn't factor into the decision on Saturday, when he allowed three runs over six innings as the Guardians beat the Los Angeles Angels 8-6. Quantrill also didn't receive a decision in his lone start against the Mets on May 7, 2019, when he allowed two runs on seven hits over 4 1/3 innings for the San Diego Padres in their 7-6 loss
--Field Level Media